I was recently alerted to some new job board software. Its called Job Boards HQ and it is a hosted solution that is fairly inexpensive. Pricing ranges from $7 a month to $57 a month for various levels. There is a free trial going on until June according to the site.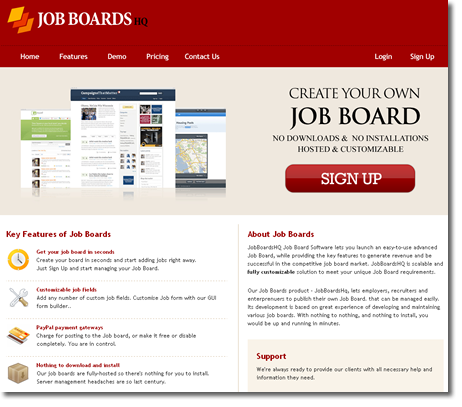 Features include:
Fully customizable: Add any number of custom job fields. Customise Job form with our visual form builder. Change the job type and category. Add custom pages with our rich text editor. Change the template. Your job board is exactly the way you want it.
PayPal payment gateways: charge for posting to the Job board, make it free or disable public completely. You are in control.
Quick, advanced, keyword or boolean search.
Job alerts – Subscribe to recieve latest job listings. Manage your subscriber list form our powerful admin interface.
Application tracking: View, delete, accept or reject applications from job seekers. The perfect sourcing tool is now Live 24×7.
SEO is built in, not bolted on. Beautiful urls with the search engines love. Specify the keyworsd and meta tags. Populate the board with keyword rich content pages. Your Job board will rock the search engines.
Twitter integration: Post jobs automatically to twitter. Get a highly engaged audience.
Integrated basic CMS: Include any number of pages with your board.
You can view both the demo's from this page.
Its a very simple job board solution if thats all you want. From the looks of it, it seems like a easy to use solution that may satisfy some job board needs. They say that they are still working out the 'rough edges' but I'll let you judge for yourself. Parent company appears to be based in India.
FYI: There is no backfill with Indeed or SimplyHired. Nor do they have an existing job pool to tap into.