Want to make your site mobile? check out JQUERY, it lets you create a mobile site with an online wizard. You can see an example on my wind power job board located at m.jobsinwindpower.com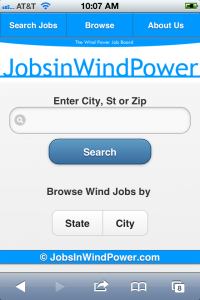 NEW JOB BOARDS
Remarkablehire.com is some kind of sourcing/matching tool to recruit IT and Engineers. They got an article in the Washington Post.
LocalWork.com has launched for the Phoenix market. Thats Jobing's territory so they face an uphill climb. Read their press release.
Recruitingdatabase.com is a directory of online recruitment vendors launched by Jason Davis (former owner of recruitingblogs.com). You can add listings to your job board and get a link back.
Strangely named ApplyApp.ly is launching as yet another "matching" site for seekers. (read the PR)