Job board software hasn't been too exciting lately. The vendors have pretty much stayed staus quo over the past few years since the industry is a mature one. But Jobboard.io is on the scence with an affordable hosted solution that is mobile ready, integrates with backfill and has a great design/user interface.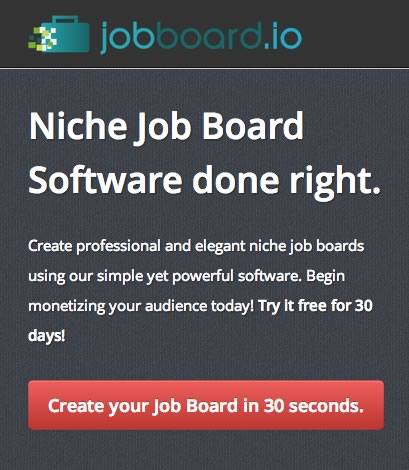 According to their site they were frustrated by current technologies so they built their own:
We've been running niche job boards via 3rd party platforms for years – but quickly grew tired of watching our time and revenue go out the door. Other "free" solutions can get you up and running, but take 50% (or more!) of all your job posting revenue. That just didn't seem right to us. So we built our own platform focusing on the features that matter most. With fixed monthly pricing, you get to keep the rewards of the effort you put in, and are able to understand and predict your monthly costs.
I took a look at some of the sites they power like bigdatajobs.com and hackernest.com. Notice the big red POST A JOB buttons. I have been advocating those for years and somebody finally built them into the product. And their other features are spot on, custom themes, international payment support, flexible pricing (incl. free), seo friendly, responsive design, a simple backend admin, applicant tracking, custom domains.
Although I havent tested it yet I cant wait to try. The company appears to be based out of New York City.