In case you haven't heard SimplyHired is shutting down. Their partner program called "Simply-Partner" is also going away and thus ending one of the last viable options to operate a free hosted job board solution. They made the announcement last Friday. Last day of operations will be June 26th.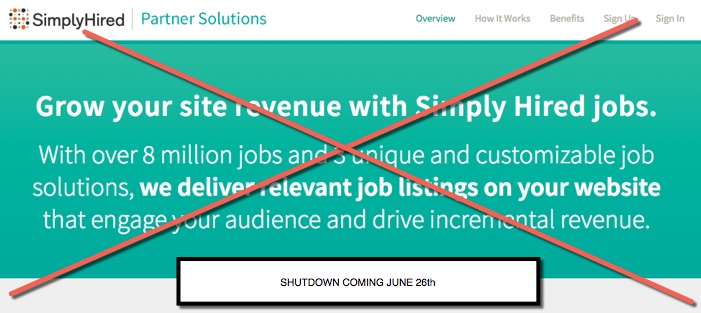 Any sites using SimplyHired's API for backfill or hosted job board platform will be FORCED to change providers. Unfortunately this is going to cost you time and/or money since they had the last viable free platform on the market other than RealMatch.
Your most immediate option would be to buy a WordPress job board plugin and host your own job board. I can help you set that up if you are willing to pay me. I can get you up and running for about $600. Or you can try my Jobboard.io concierge service if you have a bigger budget.
I just heard of a new new free platform that is being built but FreeJobBoardSoftware.com is not ready at this time though you can sign up for launch on their homepage.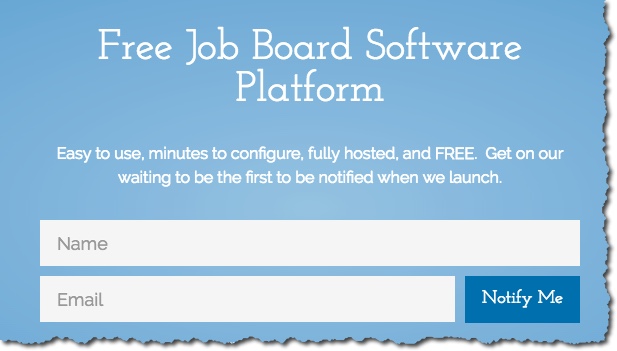 Below is the text of the SH email I received last week;
Dear Chris,
 
Your company and Simply Hired are currently parties to the Simply Hired Partner Terms of Service ("Agreement"), under which Simply Hired is providing job content and related services to your company. 
 
Simply Hired hereby notifies your company that it is terminating the Agreement effective in 30 days, on June 26th, 2016. We are terminating the Agreement because we are suspending our Partnership Program for all publishers.
 
There will be no interruption in services between now and June 26th.  All payments will be processed and paid under the terms of the Agreement.
 
Please refer to the FAQ below for additional details. Our partnership team can assist with any needs you may have with respect to this transition process.
 
Please feel free to reach out to us if you have any other questions.
 
Best regards,
The Simply Hired Partner Team
support@simply-partner.com
CONFIDENTIAL: SIMPLY HIRED PARTNER FAQ
Overview
The business of Simply Hired will cease operations as of June 26, 2016. Accordingly, we will be winding down our Partnership Program and all related platform services prior to this date.
Timing
We will be winding down all partner services by June 26th, 2016 ("Service Discontinuation Date"). This includes hosted Job Sites, Job Widgets, API and data feed accounts. Please make arrangements to transition all Simply Hired services prior to this date at which point all services will no longer be available. This includes all functionality- hosted Job Site URLs, Widgets, API, Account and Reporting services will be deactivated.
Job Listing Sales (For Hosted Job Site Partners Only)
The following pertains to our optional Job Listing Sales features offered with our hosted Job Sites only. All Job Sales capabilities will be available through the Service Discontinuation Date, however, it is important to understand how best to handle transitioning these capabilities with respect to active advertisers.
Active Job Listings will run through the Service Discontinuation Date unless you advise us to disable this specific functionality, or all your Job Site functionality, before that time. Typically these are sold on a 30-day basis. Any advertiser with partially delivered listings (i.e. less than 30 days or applicable duration sold) will be issued a refund. Please note that Simply Post upsells will run until the Service Discontinuation Date (on www.SimplyHired.com) irrespective of the status of your Job Site, but will be subject to automatic proration and refunding per the policy below.
If we disable this functionality for you, or when you turn off your JobSite entirely, all active job posting products will be canceled in accordance with our Terms and Conditions.
The refund shall be calculated as the total number of days remaining in the Job Listing divided by thirty (30) and multiplied by the fee paid for the Job Listing and shall be paid to the advertiser within thirty (30) days of cancellation via the credit card account used for purchase. and your advertisers will be unable to access their account settings and dashboard.
Should you wish to transition your advertisers to a new platform, our Partner Support Team can assist you with downloading your data. Please keep in mind that your advertisers will not be able to access your account settings once this functionality is disabled. As a reminder, all communication regarding the discontinuation or modifications of these services to your customers is your responsibility. We will not communicate directly with your customers with respect to any information contained here.
Please let our Partner Operations Team know of your plans as soon as possible, and ideally no later than Tuesday, May 31, 2016, by sending us an email to support@simply-partner.com.
Your final partner payment will reflect these adjustments. 
Reporting Data
If you wish to download any reporting or account information prior to service disconnection, please do so no later than the Service Discontinuation Date.
Final Payments & Tax Forms
We anticipate making all final payments within 30 days of the Service Discontinuation Date orJune 26, 2016. This includes all unpaid earnings generated up to the Service Discontinuation Date. Your current payment method (i.e. check, wire or PayPal) will be used.
All year end tax reporting forms will be provided on a timely basis.
Other Questions/ Assistance
Should you require any additional assistance up until the Service Discontinuation Date please send an email outlining your question or request to support@simply-partner.com prior to the Service Discontinuation Date we will respond as promptly as possible. After the Service Discontinuation Date please contact partner-support@dswinddown.com.
Finally, we'd like to sincerely thank you for your partnership and support during the last 10+ years. We will miss working with all of you.
The Simply Hired Partnership Team