A longstanding national job board, AllStarJobs.com and it's Canadian sister site, AllStarJobs.ca is up for sale. They were founded in 1999. This is a package deal for both website properties in the North American job market.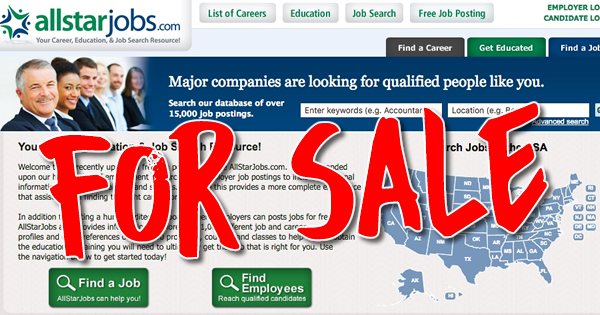 Why Buy? (Chris Russell says) These sites offer a solid level of passive income for the right owner.  You can certainly make more money on job distribution if you add that as a new revenue stream. In addition, these sites have tremendous SEO ranking so if you are good at content you should be able to increase traffic. I would put these on the Smart Job Board platform which would allow you to recreate the content to maintain search rankings. By adding an email marketing component you can also turn up the traffic and boost ad revenues very quickly. The sites give you a foothold in both the Canadian and U.S. markets. The .CA site has the most traffic and offers a great opportunity for anyone who wants access to a large number of employers and candidates in Canada.
Asking Price – $200K but willing to consider all reasonable offers. Lowball offers will not be considered.
Who to contact?
Cell 303-525-3956 (text or email before calling and will return call or schedule one, on-site full time with client now)
Summary
What is revenue from past 12 months? (break out .com vs .ca)

The combined totals for allstarjobs.com and allstarjobs.ca combined for the past 12 months = $36K

Revenue for the year 2015 is very close to the revenue from the past 12 months, and we can provide full details if required for serious inquires

We are willing to provide full details and login information for verification, as well as check stubs, etc

We have breakouts for AdSense and some information on backfill but there is some inconsistent reporting on the other platform tracking. AdSense has cleanest reporting and the two websites are split out with Custom Channels to show page views and revenue

AdSense

Indeed Backfill

Zip Recruiter new employer signups – $100 per new monthly user

Zip Recruiter – Backfill (was implemented in January 2016, but we switched back to Indeed because Zip Recruiter was having issues with their technology tracking)

Zip Recruiter – Email Alerts – We have never done this but this should be started in order to take full advantage of candidate traffic

We have a high level contact at Zip Recruiter who can be contacted to continue the relationship. He helped us start the employer affiliate program

Monthly Revenue Average = $3,030 TTM

What are expenses per month?

Hosting – $99 Host gator for .CA dedicated host

Hosting & Licensing Fee – Job Board Mount $296 per month for .COM (this is paid quarterly at $888)

Hosting for .COM CMS (Blue Host ~$10/month)

Reviewing Job Posts – We pay approximately $785 per month to an independent contractor who manually review all job posts, answer emails, deal with misc. issues that arise is based on 9 hours a week and rate of $25/hour.

What platforms are the sites hosted on?

CA – Jammit old CGI version, site needs migration to new platform

COM – Job Board Mount

.COM also has content pages on separate CMS

How much time per week to run the site?

9 hours to review job posts, emails, maintain sites

Number of registered employer and job seeker accounts in total, and number of new employer accounts and job postings created each day

.CA

52,320 employer accounts

68,688 candidate accounts

**A platform update would make it possible to take full advantage of the employer and candidate accounts, and begin to use alerts, lots of repeat large employer accounts and brand built up in Canada

Averages 40-50 new employer signups each day

Averages 400-500 new job posts per day

.COM

3,828 employer accounts

44,374 candidate accounts

Traffic stats…monthly unique/sessions, breakdown of organic vs any paid traffic

There is currently no paid traffic for either site

Both sites are decent authorities in their space with quality backlinks

.COM has large section of unique content written for the site years ago good foundation to build from and add to

.COM has large number of .edu links

.CA

68,760 Sessions per month average during trailing 12 months in GA

43,376 Users per month average during trailing 12 months in GA

Never had any link building, but lots of opportunity to get those

Over 3-minute time on site average

61% returning visitors 38% new

Can provide full access to Google Analytics account or export specific reports on request for serious inquires.

Original Purchase Price

.CA -$58K 5 years ago via Flippa from original owner

.COM- $35K 7 years ago via Flippa