The other day I got this Direct Message in my Twitter account;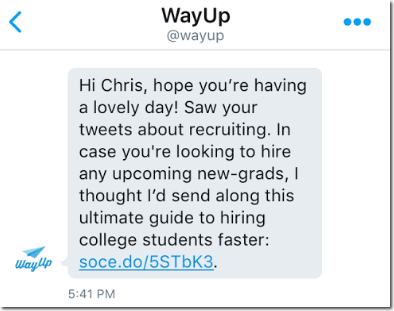 It's a lead gen message from the entry-level job board WayUp and I thought it's a great example of how to do lead generation using twitter.
It links to a signup form to get a free ebook. Ebooks about hiring in your niche are a terrific way to build your prospect lists. Every job board or HR tech startup should utilize this tactic as much as possible. And using Twitter makes it easy to find recruiters and HR people. Just do searches on phrases like human resources, recruiter, staffing to find people and organizations who are hiring.
The WayUp message good message in my opinion because it:
a) personalizes it with my name
b) tells me why they are sending it
c) lets me access something relevant that might help me do my job
So get out there and start writing yours to build your own list of hiring prospects.