There's news of a new job board coming online. It's a Peer-to-Peer Job Sharing Network that "Brings Transparency to Executives Using Artificial Intelligence and Crowdsourcing Techniques" according to the news release. It started as some kind of private list among C-suite executives and it just raised $6.5 million in funding.
It's nice to see a new generation of job boards launching with interesting technology and specialized niches. Members of ExecThread [link] earn points by sharing job leads. I like the approach.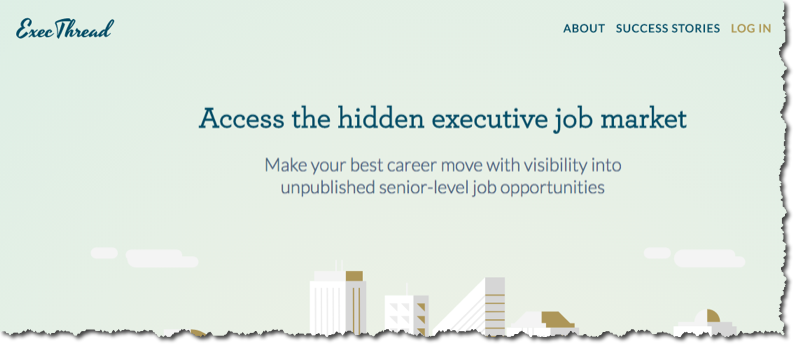 Per the release, Founder and CEO Joe Meyer, former CEO of HopStop (acquired by Apple) and former executive at AOL & GM at eBay, created ExecThread to address shortcomings in the traditional executive search process that he saw as both a candidate and as a hiring manager. Leveraging artificial intelligence and a unique peer-to-peer crowdsourcing approach, ExecThread provides a way for executives to discover career-advancing job opportunities previously unavailable and inaccessible to them, and enables them to take more control over the job discovery process. ExecThread also connects executive recruiters and hiring managers with carefully vetted candidates, thereby helping to surface the best candidates and reduce time-to-hire.
The site claims up to 50% of executive jobs are never advertised. Reminds me of what the Ladders used to be. Also anyone remember 6FigureJobs? ExecThread certainly seems like a better version of all of those past attempts at the exec market.
ExecThread's member base, which has grown entirely via word-of-mouth referrals to date, includes board members, C-suite executives, vice presidents and director-level professionals from 80% of the Fortune 100, 75% of the Top 100 Global Brands, and 60% of leading startup companies with $1 billion valuations. As of today, and for the first time to date, professionals can apply to join without being referred. To ensure exceptionally high network quality, ExecThread created a rigorous two-pronged applicant vetting system, which combines an interactive "peer review" process with an automated & statistical evaluation of a myriad of professional attributes.