Jobboard.io, the popular job board software platform started by Christian Malpeli more than 5 years ago has been acquired by ZipRecruiter. The news came via email to JobBoard.io clients yesterday. Terms of the deal are not disclosed.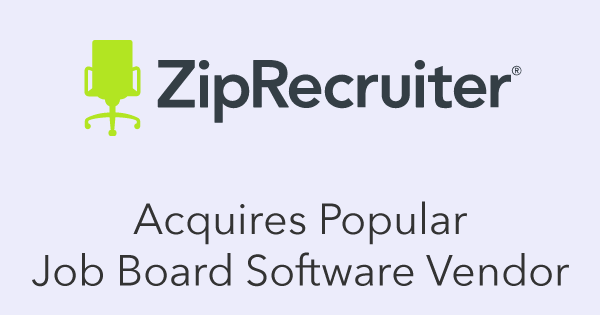 I was able to reach both ZipRecruiter and Christian Malpeli, for comment on the news.
What are the main reasons for the acquisition?
ZIP: Acquiring JobBoard.io allows ZipRecruiter to provide a more robust job board solution to its publisher partners, and will bring new monetization solutions and higher levels of job distribution within the ZipRecruiter network to JobBoard.io customers.
Will pricing change?
ZIP: We have no plans to change pricing for existing customers.
Will it be run as a stand-alone business or how will the operation be combined with Zip?
ZIP:JobBoard.io will continue to run as a stand-alone business powered by ZipRecruiter, and we're already implementing ZipRecruiter features in the product.
How many job boards does JobBoard.io power?
ZIP:JobBoard.io has over 200 clients, including major sites like Techcrunch, Politico, The American Association of Cancer Research and more.
Ian Siegel, ZipRecruiter's CEO said this about the deal, "Christian and the team at JobBoard.io have built a terrific product, and we're excited that they're joining the ZipRecruiter team. We're already implementing new ways to delight JobBoard.io publisher partners, including having job postings run across the ZipRecruiter traffic network, and there are more great features on the way."
---
I asked Christian if the platform will become a Zip only backfill provider. No, he said.
"We believe that publishers should have choice in the solutions they use to power their job boards. While ZipSearch allows a publisher to tap into leading search technology and the fastest growing jobs marketplace in the US, we do not plan to limit backfill choices to only ZipRecruiter's offering."
Christian will be sticking around and become an employee at Zip where he plans to continue innovating on the platform and growing his team.
---
Here's my take on the deal;
The move is a

smart one

by ZipRecruiter as it increases the reach of their

affiliate

network thus providing more relevant candidate traffic to its sitewide listings. They will also be able to earn additional

revenue

by introducing a posting function directly from Jobboard.io into ZipRecruiter's main listings. This will be the first time a major job site provider has its own DIY job board software service since the defunct

SimplyHired

launched

Jobamatic

which died a fiery death after Indeed acquired them  2 years ago.
I think the move also puts pressure on the other major aggregators like
Jobs2Careers
,
JuJu
and
Neuvoo
to up their game. Those companies have affiliate programs but they are way behind where ZipRecruiter now stands. If I were them I'd be looking at s similar acquisition or partnership with other job board
software vendors
.