DHI Group, Inc. (NYSE: DHX) the parent company of tech job board Dice.com, has sold its hospitality job board, Hcareers, to Virgil Holdings, Inc. for approximately $16.5 million in cash.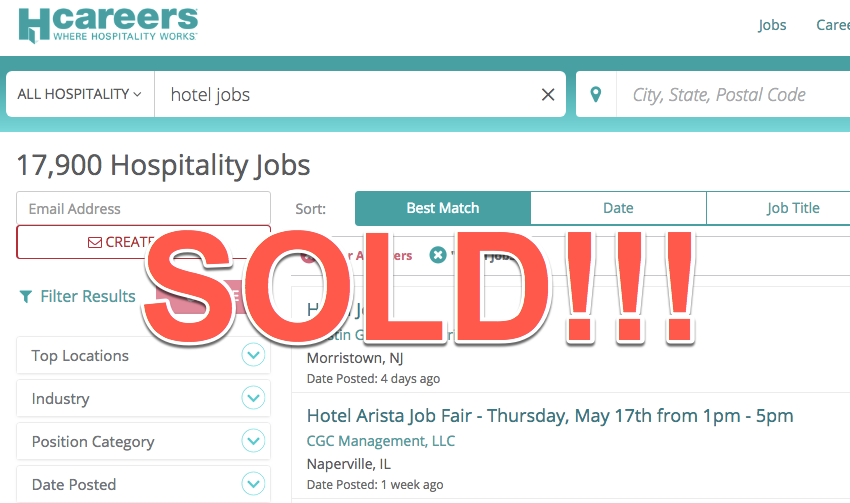 The transaction closed today and DHI will use the proceeds in accordance with its stated capital allocation strategy, including the "reduction of the balance on its revolving credit facility, support of strategic initiatives and potential return of capital to shareholders." This sales comes on the heel of selling off its Healthecareers job site business back in December of last year.
With a sale price of $16.5 million I would guesstimate Hcareers annual revenue at around $5 million. So thats roughly 3X revenue which most sites of this size tend to go for.
DHI announced last year it would be divesting its non core job sites and this marks another milestone in that process. Their new CEO said this about the deal in a press release.;
"Virgil Holdings, Inc. is a great new home for Hcareers, which will no doubt benefit from being part of a company closely aligned with the hospitality industry that is transforming how candidates and employers come together," said Art Zeile, President and CEO of DHI Group, Inc. "We are pleased with the outcome of this transaction, as it helps us concentrate on our core strategy of bringing relevant career opportunities to tech professionals and qualified technology talent to employers."
The new owner, Virgil Holdings Inc. owns and operates Virgil Careers, a career transition platform. Virgil is based in New York City.