Last week I was able to identify how much revenue Glassdoor has based on an internal PDF from its new owner Recruit. According to them, GD sales  hit $171 million in 2018. With a sell price of $1.2 billion that gives them a valuation of about 7X annual revenue.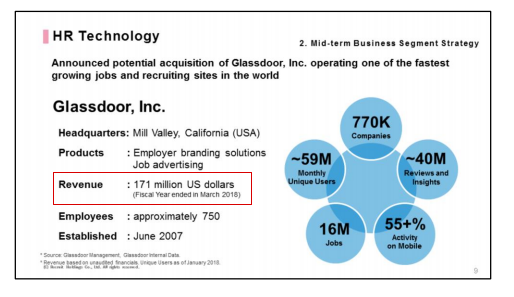 7X is on the higher end of acquisitions that I have seen in this industry over the years. I think the majority of sites sell for less — somewhere in the 2X-3X range. It just depends on the site fundamentals. Namely;
How profitable it is.
What kind of client loyalty it has (how often clients come back).
The niche they are in (more or less competition).
Cost of running the platform.
Size of registered seeker and employer database.
Acquisition valuations are typically hard to come by but these new numbers from the Glassdoor deal shed a little more light on how buyers value potential job site businesses.
If you would like help in coming up with a valuation for your site let me know. You can hire me for an assessment. Email chris@jobboardsecrets.com