The owner of the Chicago Tribune, New York Daily News, and several other top news brands have partnered with Recruitology, providers of  a talent recruitment platform to power more of their top media properties. It was announced via press release yesterday. 
"Our goal is to help media partners leverage their local brand while also being able to offer employers access to top national brands," said Roberto Angulo, CEO of Recruitology. "We're excited about this partnership. The end result is a one-stop solution for employers who gain access to relevant and interested job seekers both locally and nationally."
Recruitology will power local job boards for the Tribune Publishing properties, as well as the Los Angeles Times, and the San Diego Union Tribune. Here's a screenshot of what it looks like on the Daily News (NY) version.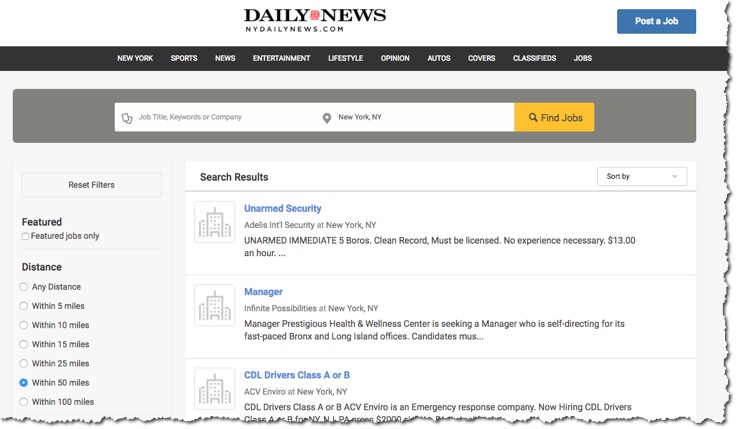 According to the release, media specialists at these properties will also offer employers vertical-specific job targeting to candidates on niche job boards in areas such as healthcare, education, technology and finance. At the same time, employers will be able to take advantage of programmatic advertising campaigns that distribute jobs to the local media site and to large national job sites while automatically setting and adjusting the bid price on the sites to which these jobs are sent.
"As the trusted source of local news in each of its markets, Tribune continuously aims to innovate in order to bring the best solutions to its audience and advertisers." said Gladys Arroyo, Vice President of Classifieds for Tribune Publishing. "We look forward to collaborating with Recruitology to offer employers a turnkey recruitment solution".
Angulo tells me they now power 65 boards and growing. Newspapers have long outsourced their job sites to companies like Monster and CareerBuilder. But those firms did a poor job of leveraging that traffic and helping their media partners make money. It's good to see players like Recruitology take a fresher approach. God knows the newspapers need the revenue.