Recently a site I was mentoring asked me to piece together what a typical marketing person should be doing throughout the day. I thought it was a good suggestion and decided to put it into a blog post. For the purposes of this post we'll start the day at 8am and end at 5pm.
These are not hard guidelines but serve to give you a sense of what needs to be done daily as a marketer.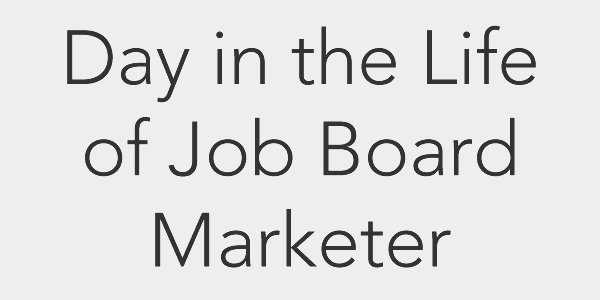 8am – 9am: Check emails from night before to see if any leads came in. Also check to see if any employer registrations were created but didn't purchase. Plan a drip campaign for set of new employer leads (min of 200 per day should be put into Drip)…Review web stats from day before to look for any dips or spike in traffic.
9am – 10am: Social media posting. Post at least 5 of your jobs into local Facebook groups for extra free traffic. Find more groups to join. Welcome any new clients by tagging them across Facebook, Twitter, Linkedin to the site.
10am – 11am: Plan/write weekly newsletter for seekers with latest jobs, articles and industry news they need to know about.
11am – 12pm: Check competitor job boards and social media for new leads in your niche. Gather email address and name if possible so you can keep putting new leads into the Drip campaign.
12pm – 1pm: Lunch,  take a break. Listen to a marketing podcast.
1pm – 2pm: Respond to new leads. Send out a push notification to site opt-ins with a job of the day or other piece of content that drives traffic back.
2pm – 3pm: Check advertising campaigns via channels like Jobg8, Google, Facebook, Clickcast..etc. Look for underperforming jobs and try to give them more exposure through social or email to see if you can pick up activity.
3pm – 4pm: Go on Linkedin and look for leads via their content search. Use the Email Extractor chrome extension to capture hiring emails by scrolling through results. Comment on potential leads you find with a free offer or discount code. Go to 3-5 Facebook job search groups and do the same. Use these for tomorrows drip campaign entries.
4pm – 5pm: Content Marketing – Post a good blog article to Linkedin and Facebook. Late afternoons are the best times to post. Check the press release wires for any industry news you can potentially use