Jobcase and the Discover the Real West Virginia Foundation (DRWV) – an organization dedicated to diversifying and enabling West Virginia's economic growth and success, and – have announced the soft launch of DiscoverWVJobs.com, a new public-private collaboration to support workers and job seekers in West Virginia. The platform will provide improved access to career info, and directly match people to local jobs. It can be found at www.DiscoverWVJobs.com
Jobcase received $100 million in funding earlier this year to tackle its blue collar hiring efforts.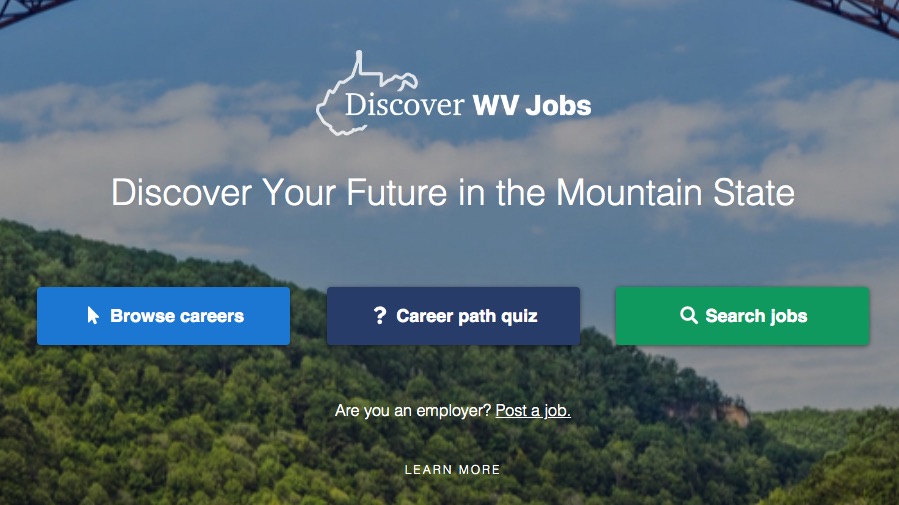 "West Virginia is an amazing place to live and work," said Senator Joe Manchin. "We have great employers here with thousands of good-paying jobs, and a low cost of living. The wonderful people of our state are skilled, well-educated, and hardworking. So, we just need to help everyone connect the dots, and DiscoverWVJobs.com helps us do that. This platform will match individuals with quality employers, strengthen our workforce, and foster greater economic opportunity for West Virginia. Collaborating with Jobcase is a great fit for us, because they provide powerful resources, help us reach more people, and support and believe in the residents of this state."
"DiscoverWVJobs.com enables West Virginians to easily find local job listings and information on new careers, empowering folks to find local jobs to help them live and grow in the Mountain State," said Lloyd Jackson, President of DRWV. "This new resource helps recent graduates start their careers here, enables established workers to transition their skills to local industries, and assists out-of-state West Virginians with finding jobs that can bring them back home."
The new online jobs and careers portal, donated by Jobcase and developed jointly with the Discover the Real West Virginia Foundation, provides an integrated platform that brings together multiple types of support:
A comprehensive local job search – with instant-apply tools
A career browser – listing industries with local jobs, information on salary, skills, advancement, and requirements to apply
A brief, self-assessment quiz to custom-match jobseekers to new industries and careers
Free-to-post job listings for all employers in West Virginia, and
A dedicated online social media community, where jobseekers, employers, and supporters can all share questions, advice, and support to each other
"Jobcase is thrilled to work with Senator Manchin and DRWV to help people and companies discover and achieve success in West Virginia!" said Fred Goff, Founder and CEO of Jobcase. "DiscoverWVJobs.com will not only help West Virginians discover and explore new paths to worklife success, but we also believe it will help highlight the strengths of West Virginia to people and employers across the nation – and deservedly so.  When we help people discover new pathways to opportunity, and make it even easier for neighbors to support neighbors, it benefits people, employers, and the local economy alike.  It's all part of what the Senator, West Virginians, and Jobcasers already understand – we are stronger together.  And, we are just getting started!"
The official launch for the site will occur in the fall, offering even more jobs and other content from additional partners from across the state.