Some interesting news just hit my inbox, Austria based Jobiqo has just received a major new investment.
Originally I thought they were acquired by Russmedia, the job board company, but Martin Lenz from Jobiqo clarified by telling me that RMI is a separate unrelated entity.
Jobiqo is the first investment of RMI into a software company. You can learn more about their other investments here. I am looking forward to further innovation from them and this new investment is surely a good sign for the job board software market.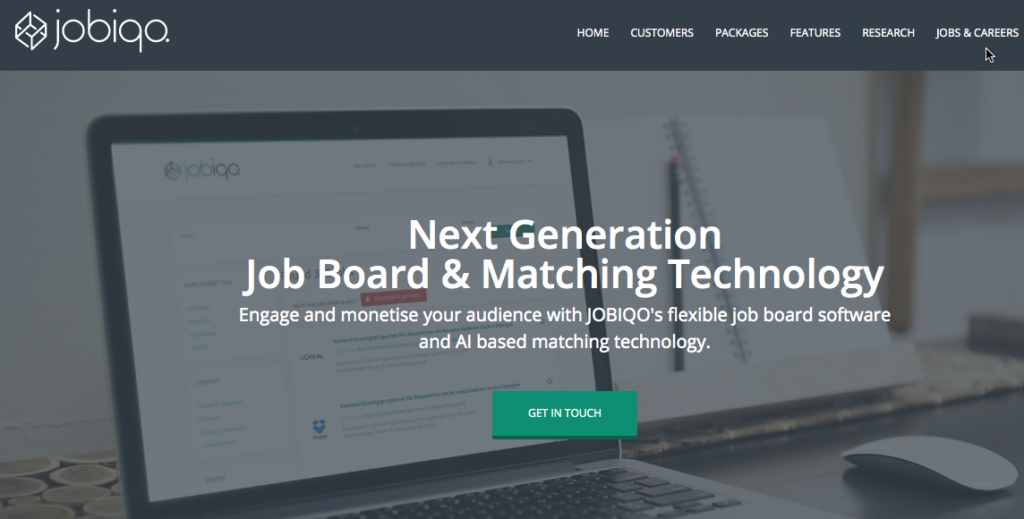 PRESS RELEASE
Russmedia International (RMI) acquires a majority stake in the Job Board software and Matching Technology vendor Jobiqo, further supporting Jobiqo's recent strong organisational growth and product development. The company will remain focused on strengthening the revenues of its publishing customers and their Job Boards.
Vienna, 9-Oct-19 – Russmedia International Est (RMI) acquires 50.1% of Jobiqo, founded in 2011, from founder Klaus Furtmüller, who will continue as minority shareholder and Managing Director. Remaining shareholders and long-time Jobiqo employees, Martin Lenz (Chief Executive Officer), Klaus Purer (Head of Technology Operations) and Matthias Hutterer (Head of Development & Innovation) will stay on and assume further responsibilities.
Helping job boards to succeed in changing markets
"I am delighted to welcome RMI as an internationally renowned investor and technology partner," says Furtmüller. Jobiqo will be able to step up its current strategy while the existing management structure will remain in place. Our Core clients are both Niche and Generic Job Boards run by some of the biggest publishers in the world through to privately owned sites. The Job board sector is where we are founded and gives us an incredible grounding to expand our product offer into Professional Associations, Personnel Service Providers and Employer career sites.
Our solution was always built to provide a better candidate experience yet stay flexible in the ever-changing world of online recruiting.
"We prefer to invest in independent companies with a strong entrepreneurial team. Klaus Furtmüller, Martin Lenz, Klaus Purer and Matthias Hutterer have built an impressive company over the last 8 years and we look forward to working with them to further accelerate Jobiqo's growth," says Chris Wittlinger, Investment Manager at Russmedia Group.
"Jobiqo will continue to represent stability and the innovative strength that our customers, partner companies and employees know and appreciate," says CEO Martin Lenz, who joined the company in 2017 from Accenture, one of the world's largest digital transformation and consulting firms. "With Russmedia International, Jobiqo has gained a strong partner who has reaffirmed our strong organic growth.
They will support our product vision and growth strategy, significantly supporting us in developing further which will help our customers succeed in a very competitive online recruitment market."
Technology leadership & global footprint
"We plan to invest further in product development and the organizational growth to enhance Jobiqo's technology and market leadership," comments Eugen B. Russ, Managing Director of RMI.
"It has always been our vision to create technologies geared to the needs of candidates, with which our customers can improve the services offered to their target groups and increase their turnover in the job market," says CEO Martin Lenz. "With our flexible solutions, Job Board owners reach a new level of quality and professionalism in online recruiting and can take advantage of the rapidly changing market."
In the past two years, Jobiqo has tripled its turnover and number of employees, winning numer- ous customers across the USA and the UK. The recent growth of the UK office was the logical next-step. New UK Managing Director, Richard Essex, has brought a wealth of experience to the Jobiqo team with 20 years in both the Staffing and Direct Employer sectors of the Recruitment industry.
Jobiqo was founded in 2011 and emerged from one of Klaus Furtmüller's former companies. Furtmüller has been involved in digital recruiting solutions and the development of his Job Board technology for 13 years. Martin Lenz has been in charge of the business since Spring 2017. The expert for digitalization joined Jobiqo from Accenture, one of the world's largest digital transformation and consulting firms, to accelerate market growth and bring his digital transformation expertise to clients.