JobSeer, the AI-powered Chrome extension tool for job seekers, announces the launch of Mini Box, a compact view that provides immediate condensed insights on candidacy for users to refer to on-the-go.
With Mini Box, users can enhance ease-of-use by quickly scanning the most critical job description insights. The Mini Box consists of a candidate match score, expected base salary, company size and revenue, and visa sponsorship history to allow job seekers to assess their qualifications and employment needs before choosing to learn more about candidacy details and finding a recruiter and employee contact information.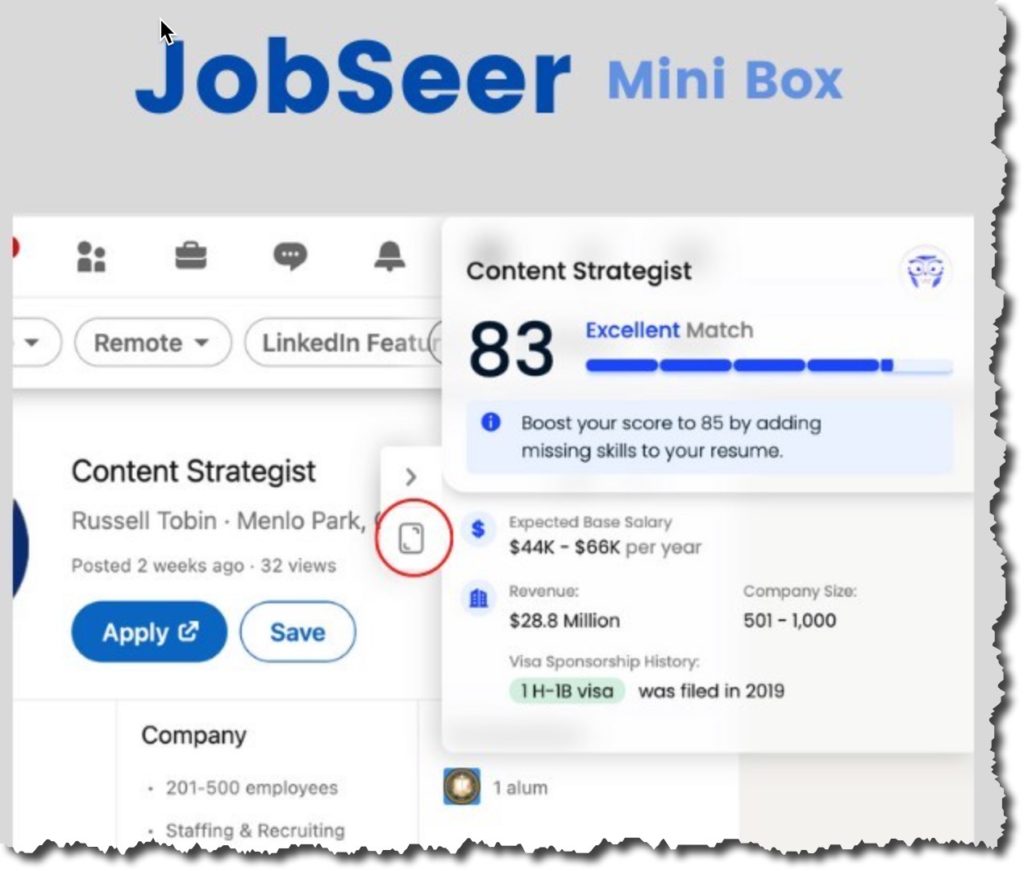 ---
Professional Diversity Network, operator of online and in-person networks that provide access to networking, training, educational and employment opportunities for diverse individuals, today announced that it has entered into a stock purchase agreement to acquire equity interests in RemoteMore USA, an innovative company that provides remote-hiring marketplace services for developers and companies. The transaction is subject to satisfaction of closing conditions and is expected to close in the second quarter of 2021. Upon completion the Company will have ability to become RemoteMore's largest shareholder and obtain significant influence on its operations.
RemoteMore is a technology company that addresses the increasing demand for qualified candidates by connecting them with businesses through an extensive, remote services network of software developers. The virtual network will allow businesses to access candidates from a wider scope, transcending the current geographic limitations. It serves growing needs for businesses to find quality candidates in long range radar scope rather than in local sources.
---
The sudden and unexpected arrival of the COVID-19 pandemic in 2020 adversely affected every facet of society. Arguably, the employment sector suffered the most (and continues to do so) as millions of individuals worldwide found themselves without a job in the wake of the coronavirus outbreak. Naturally, leading job boards around the world were put under pressure to satiate the high employment demands of out-of-work individuals. Propellum, a renowned job automation company, is a service partner to some of the world's biggest job sites. During the unemployment crisis, Propellum's advanced job scraping and posting tools helped their clients meet their customer requirements regularly. As a result, the overall credibility of such job boards has been enhanced during the pandemic.
Job wrapping is the process of securing open job vacancies from a recruiting company's website. Propellum provides its clients with the option of pre-defining the types of jobs they want to feature on their boards. Once the job boards make their preferences clear (based on demand trends for specific jobs), Propellum's intelligent job wrapping tools exclusively find and post those kinds of vacancies on their clients' online platforms. Despite its burgeoning portfolio of clients, Propellum is renowned for its attention to detail regarding the quality of its job postings. The wrapping process is automated so that open vacancies from corporate career sites can be posted immediately on the job boards when they emerge online. Propellum's famed customer services department works round the clock to resolve any client grievances in the shortest amount of time.
Propellum's services are highly customized to suit the preferences of each client. The firm offers its job wrapping services in a multilingual format to truly personalize its online platform for clients worldwide.