Is a keyword based job domain for an industry niche worth $200,000? Well the new owner of Cybersecurityjobs.com thinks so. They just purchased it at auction via Sedo.
The sale is the biggest jobs related domain purchase in quite a while. Niche domains like this don't usually sell for six figures. They normally go for much less.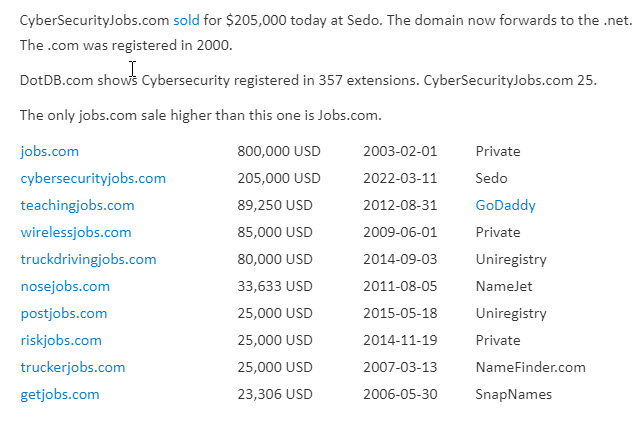 The site is live now and features a job board powered by YMcareers. Actually they have split the site into a main domain and the job board sits on a subdomain jobs.cybersecurityjobs.com.
Postings start at $299. The owner appears to be from the UK and already owned the .net version of the domain so they have actually operated a job board since 2017 according to their about page.
Its a pricey sale sale for sure but with cyber being one of the fastest growing job sectors I guess it makes sense. I hope they make good of use of it. A niche site like this has potential to be a $500k/yr to $1 million/yr business. These types of jobs tend to be higher paid ones as well so the more lucrative the niche, the more you can get for a keyword rich domain like this one.