Although the pace has slowed due to the economy, new job boards are still being launched. Yesterday I discovered Cardgigs.com, a micro-niche job board serving the 'payments' industry. I call it 'micro-niche' because they are targeting a very niche industry and I do see more of this narrowly focused sites popping up. I think industry focused sites still have much growth potential.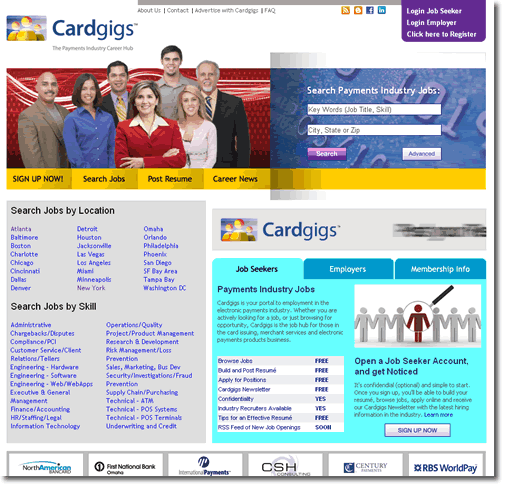 According to the press release: "Cardgigs is a membership-based site affording employers the choice of various service plans. Job seekers are free to join Cardgigs, build and revise their resumes, conduct job searches and apply directly to listings. Since its recent launch, companies such as North American Bankcard, RBSWorldpay, First National Bank of Omaha, Century Payments, International Payments Corp and several industry-specific search firms have already posted a wealth of job listings and been pleased with the results."
As far as the design goes I have a lot of praise for the homepage. Its a solid interface that offers ease of use, and plenty of ways for jobseekers to interact and search jobs. The graphics are clean and professional looking. My mantra for job board design is that it has to inspire people to use it, and Cardgigs definitely does.
It has some jobs in the database although a few of the home page links showed no listings. A backfill would be useful there. I also noticed that browser titles do not change so their SEO needs to be looked at.
The pricing model is interesting and based on membership.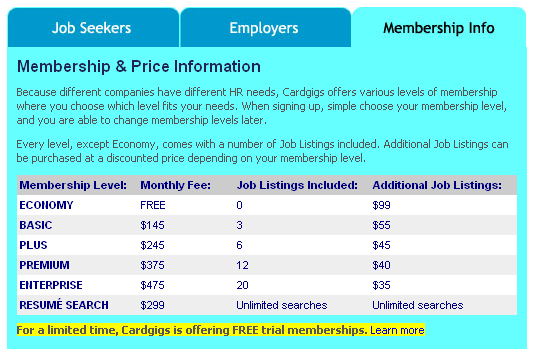 So its good to see niche boards coming along. Hopefully 2010 will be a much better year for those that still exist.