I have been reading recently of the surge in temp hiring across the US. Basically employers are really gravitating towards hiring temp workers to fill certain voids. So it got me thinking about a temp job board. I did some searches and couldn't find may. There was Net-temps, and that was really about it. So sensing an opporunity I have launched 99tempjobs.com.
The site home page is on my own server since I wanted a custom interface to find temp jobs. The backend, search.99tempjobs.com is powered by Jobamatic which provided a quick and dirty job board on the fly.
Notice how i set up the home page. For one thing I inserted the word "temp" into the search box to give the user an easy way to find temp jobs. I also created columns of text for all the states. I think the site eventually will rank for these terms eventually since there are very few localized temp job sites.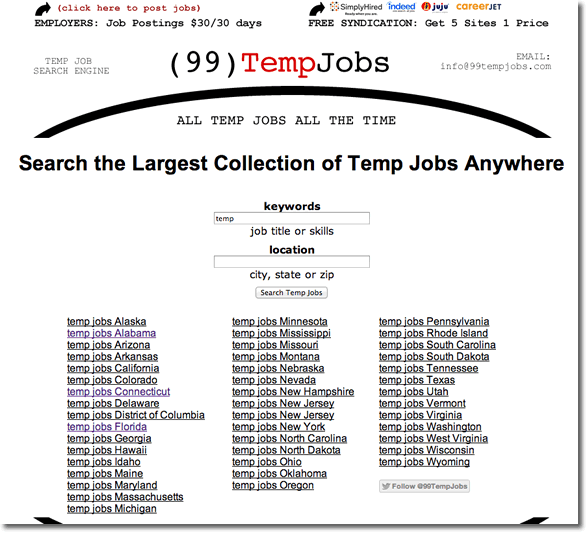 I also set all state links to filter only temp jobs. For instance here's a sample link for temp jobs Connecticut.
http://search.99tempjobs.com/a/jobs/find-jobs/q-temp/l-Connecticut/sb-pd/fjt-temporary
To get those specific results I just searched for all jobs in CT and on the left menu in a Jobamatic site they have a 'Temporary' filter which adds this syntax to the URL structure: sb-pd/fjt-temporary
So I created all the links that way. Now the user will generally only see temp jobs when they search the site. That should help the SEO as well. The search jobs part of the site also has lots of the right keywords in the header and footer.
Spotting a trend is part of a good niche board strategy. Follow the job market and start sites that have a growing niche. Add content, get people to link to you and it will grow over time.