There is an awesome niche job board that I would love to own. Its an example of a job board done right from start to finish.
AJ has been around for a few years (since '05) and I just love how simple it is, how professional it looks and the results it delivers. As niche job boards go, they hit a home run.
The site appears to be based off a WordPress theme, and if that is the case, they did a great job customizing it to suit their needs. Lets take a look at their home page. It's got logos for each job posting which give the job results an almost 'ebay like' look & feel. The design is very neat and orderly.
Notice the location of the Post a Job button. Upper right, simple call to action. The 'we're hiring' image also helps call attention to the area for employers. They use logos of customers as proof for other employers to trust them. Nicely done. The site is global too and attracts postings from the US, Canada, and the UK. And to top it off you get a money back guarantee! What other job boards do you know do that? Plus the owner puts his name and face on it. Personalizing your job board like this will really help employers trust you.
But I also know it works. The company I recruit for just posted a few jobs and the amount of views the posting is getting is insane. Check out their backend for employers. The first thing you see are the number of job views, applicants and time to expire. Nice metrics! Its only been about a week but the number of views my job has gotten is really good and they even break down where that traffic is coming from.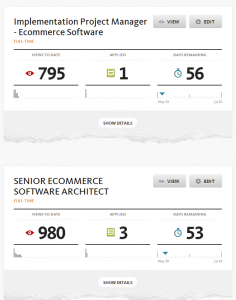 The site is cranking in the revenue too by the looks of the job postings I see being added each day. Full time postings cost $249 each while freelance postings cost just $99. If you want a job board role model, AuthenticJobs is one to look up to.