Don't look now but the big job boards are turning into ATS (applicant tracking systems) and the ATS is becoming a job board. Yes they are all morphing into the same thing right before our eyes. As my evidence I'm going to use 2 popular sites: ZipRecruiter and Indeed.com.
Indeed started out as an aggregator, then slowly ran ads against part of the jobs they scraped then added full blown job descriptions. And of course when you offer job postings you need a way to manage responses. Their employer dashboard is taking on more ATS like features every week it seems.
If you look at the above screenshot of a candidate submission ( i protected his identity) you can see that I can email him, categorize him, schedule him, reject him, etc. All these features are part of an ATS. Now its no surprise to me that this is happening. If Indeed can incentive recruiters to stay in its dashboard for longer they will get more postings and make more money. A "simple" ATS like this is perfectly fine for most small companies anyway. I would expect Indeed to keep innovating on this side of its business.
Next stop is ZipRecruiter. I think they have always publicly displayed their clients jobs (they are a job distributor/ATS) but they really took their jobs section and made it into a full fledged job board as you can see below. Now that they have gained traction on the employer side they can offer more value, get more resumes and count on their own traffic with a job board like this.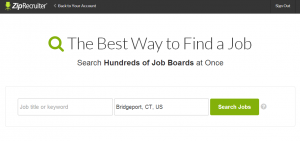 In the past other companies like job board software maker Adicio launched CareerCast.com to offer a single point of entry to all the newspaper sites its powered. It was a smart idea and one that will gain momentum going forward.
I predict companies like Linkedin will buy or launch their own ATS so they can own and control more of the recruiting pipeline in the future. So don't be surprised if the other big player in online recruitment take a similar path. They all want a bigger piece of the pie.