I wanted to publish some info to give others a sense of what some of these affiliate programs from the major aggregators payout. I captured screenshots from my Indeed and SimplyHired powered sites for July which you can see below. My sites dont have a ton of traffic, you can see the impressions in the report, but you can get a sense for how much you can earn for every 1,000 page views you can generate.
First up is Indeed. From almost 50k page views I earned $163.59. Its nearly impossible to tell how much per click they are paying since they dont show me all the clicks I generate. Of the big 3, only SimplyHired and ZipRecruiter show you how much CPC you are earning. I'm not sure why Indeed doesn't share this number with its affiliates. If I had to guess its only in the 5 to 10 cent range.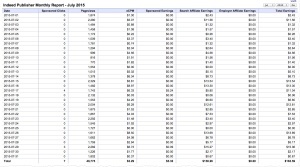 Next up is SimplyHired. I have a couple of niche sites on their SimplyPartner program. They have picked up a few postings too. But I'm only earning around 4 cents a click. The image below indicates a total of 2,290 clicks from July and earning from those clicks was $86.90.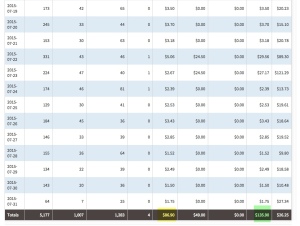 ZipRecruiter. So far after only a few weeks of using them on one of my career blogs they are generating about 6 cents a click.
Bottom line: You have to generate a lot of page views to make any decent money. That's why you should only think of backfill as part of the overall revenue stream behind postings and adsense. You may see better earnings if you have a site that targets more competitve niches such as nursing, truckers or tech. Most of my sites are fairly general in nature.