I was researching job board software the other day when I came across a beer job board. Well after a quick Google search it turns out that there are 5 of them. Here's a quick breakdown of who is serving up beer jobs online.
BrewingWork.com – powered by eJobSiteSoftware (India) this is a nice looking global job board for the brewing industry. Jobs are divided into continents on the main menu which is a good way to funnel users on a global scale.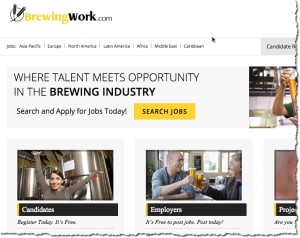 BevForce.com – this site is owned by a staffing firm and I love it when staffing firms have their own job board. This hybrid approach gives them multiple revenue streams which is good for any business.
BrewBound.com – this site offers news, events and jobs. News and events take up most real estate, jobs on the sidebar. Perhaps my favorite design among these five.
Beerjobs.org – definitely the ugly ducking in this group. It's just a front for SimplyHired listings.
CareersinBeer.com – has a decent minimalist design. I hate the yellow in the logo which makes it hard to read. Pages load very fast. Also has a directory of brewery links which is a great resource for job seekers.
BONUS: BreweryJobs.com is the newest site for brewery jobs.