My latest ebook is specifically for newbies. If you have never worked on a job board before you need to read this first before you do anything.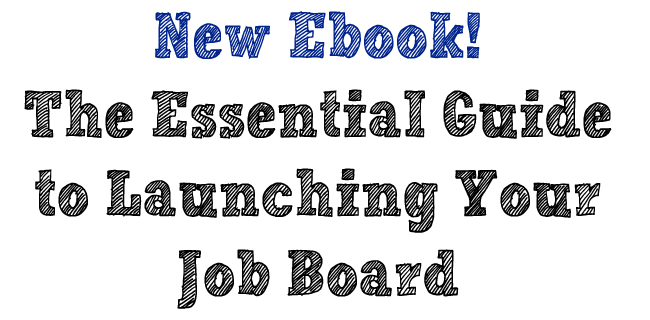 This 20 page ebook which I have been writing for the past few weeks is a primer for getting started in the job board industry. You can read an excerpt below but here's what you will learn if you buy this $25 ebook.
What your goals should in terms of traffic.
How much you can expect to spend on software, etc.
How to pick the right Niche/industry
How to name your site properly
The different types of job boards
My recommended software platforms to get started
Different revenue streams to try
How to price your job board
Working with aggregators
Setting up your social media
And much more…
Excerpt
So you want to start a job board? Congrats. Job boards can be a great online business for many people. But before undertaking this project it's important to ask yourself a few questions.
Will this be a side business or full time one?
What are your goals for the site?
Have you picked the right niche?
Are you in it for the long term?
Starting a job board today from scratch is easy to do, however making it successful is the hard part. There are a number of cheap online tools to get off the ground. But your biggest challenge will be to convince employers to pay to use it.
To do that you need to have a good looking site, be in the right niche, have an affordable product and be able to attract enough job seekers to the jobs so that employers comes back to post again.
Any online business takes time to grow so set your expectations early on. In the short term, it probably won't make much money but it will suck up a lot of your time. Be prepared for the long haul. In my experience it takes at least a year for a job site to get enough traction in the market they are aiming for. Don't give up too soon.
Today's new job boards need to be more than just jobs in my point of view. They need to also offer resources and/or community. Consider a site like ProBlogger. Author Darren Rowse started a blog about blogging several years ago and eventually added a job board to the mix.
By first building up an audience through content creation, Darren's job board became a natural evolution of the business. Now it brings in a significant revenue stream for him.
A site like MyCNAJobs.com added resources to their board like a listing of local classes to take to get certified as nursing assistants. They also started a scholarship fund to help candidates get schooling. They offered more than just jobs and today they are a thriving business.
Side Business or Full-time?
A lot of job boards these days are side businesses founded by solo entrepreneurs. A side business is the best way to get your feet wet and get started in this industry while minimizing the risk. It's how I got started back in 1999. I ran AllCountyJobs.com for two years until I got laid off in the "dot bomb" era.
End Excerpt
Buy the Ebook here. Anyone wishing to hire me for an hourly consulting call may deduct the cost of the Ebook from my hourly fee.