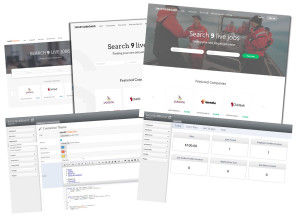 I asked
Rodion Telpizov
the developer of Smart Job Board a few questions over email. The company is based overseas in Kyrgyzstan. They have a new version out with new
pricing
.
1. What is the history of SJB? When did you start the company and why?
I launched Smartjobboard back in 2008. At that time, I was a co-founder of the software development company that provided solutions for automobile and real estate classifieds websites. We were doing well, but I kept looking for other less competitive markets. After long hours of research and analysis, I noticed that job board market had a greater opportunity and a bigger demand for a flexible and easy-to-use software solution. So, hired a couple of developers and in a few months the first version of Smartjobboard was successfully launched. I quickly realized that we were in a right direction, as many customers were choosing our solution and were happy with it. Since that time, we have significantly improved our platform based on customer feedback. And we are still working really hard to make it the best job board software on the planet!
2. How many sites currently use SJB as their platform?
More than 2000.
3. Describe your new pricing structure?
It's pretty simple. The software is provided in two options:
Host in the could – in this case we setup and host everything ourselves on our servers. We take care of all the technical part, like updates, backups and etc.
Host on your server – some people prefer to have a full control over their website. So this option is for them. You'll need to install and maintain everything on your own server in this case.
With host in the cloud option there are 3 pricing plans:
Start up ($49 per month) – allows you to have up 1000 active listings (jobs and resumes) on your site
Advanced ($119 per month) – allows you to have up to 10.000 active listings
Unlimited ($219 per month) – unlimited active listings
And for "Host on your server" option there is a one time fee of $749
There are also a bunch of add-ons you can purchase additionally.
More info about pricing could be found on our website:
https://www.smartjobboard.com/pricing/
4. What new features are in version five?
Better Speed And Performance – By removing some bloated functions, the software is now much more robust and works faster.
Awesome Responsive Templates – We've hired a dedicated design agency to develop clear and beautiful templates that look awesome on any device.
Enhanced SEO – We've optimized the URLs, titles and meta-descriptions of the main job board pages: job search, job category, and job posting pages.
Design Customization – You can now easily customize your job board without any coding.
Google Maps API Integration – Automatically determines job posting coordinates for accurate radius search.
5. Why should job board owners consider using SJB?
1. It's easy to use, set-up and customize. You can easily modify it design to your brand without any coding hassles.
2. It's responsive and mobile friendly. So you don't have to worry about losing your mobile users.
3. It provides add-ons that no one else provides: Facebook app (posts your jobs on Facebook tab on your FB page), iPhone/Android apps, Jobg8 integration