The past 30 days has seen unprecedented acquisition activity in the online recruiting world. First it was SimplyHired, then Linkedin, then Jobr and now this. A job board company is buying an HCM provider.
Last week Snagajob, the hourly job marketplace, acquired PeopleMatter, a provider of human capital management software also focused on managing hourly workforces.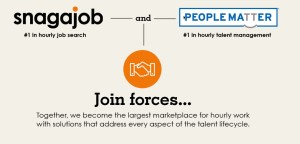 Snagajob must have taken a chunk of that $100 million funding round they recently received to purchase PM. According to the press release "It will expand Snagajob's existing portfolio and offer an unmatched suite of cloud-based products designed to accelerate the time and effort it takes to find, hire and manage an hourly workforce."
What we are seeing now is the big players in our space broadening their portfolio  in an effort to create their own eco-systems. CareerBuilder and Monster have been doing this for years by buying and merging products and services to create a "suite".
Expect the newcomers on the block to continue this trend. I predict Indeed (aka Recruit Holdings) will acquire an applicant tracking system in the near future. Glassdoor too. Any vendor who is cash rich will start to snap up complimentary pieces to their business models. That is good news for the variety of HR tech startups that now populate the landscape. I think its good for job boards too. If you have a site that makes money, has candidates coming to it regularly, and provides value to employers, you have a an asset someone will eventually want.
If I were an investor right now I would consider creating a niche job board network by buying up established boards and putting them all on a unified platform that offers employers a one stop shop for any industry. There are a lot of boards right now that are being under-utilized and/or mis-managed.  Imagine what they could become if they were brought together with the right leadership.