Founded in 2011, but connecting Dentistry & Job Seekers since 2002, DentReps.com is dentistry's exclusive job site for all hiring & talent acquisition needs for offices & organizations. Our members include Doctors, Specialists, Hygienists, Assistants, Dental Office & Group DSO Administration & Executives, Lab Technicians & Staff. With the acquisition of Dental Sales Careers in 2013, we also work with Dental Sales & Marketing Leaders! DentReps also offers services directly related to hiring including background checks, hiring assessments, & resume review and writing, as well as many others. Additionally, DentReps provides transition services and recruiting services to the industry.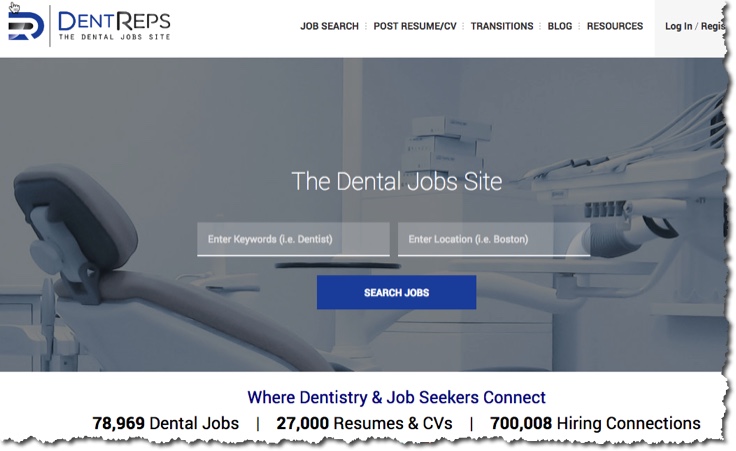 The DentReps business provides a unique opportunity to enter the dentistry recruitment space immediately and/or expand with revenue streams in dental staffing, recruitment and dental practice sales through the power of the DentReps brand.
They also offers services directly related to hiring including background checks, hiring assessments, & resume review and writing, as well as many others.
Why Acquire DentReps?
DentReps having at minimum, doubled revenue yearly & working with greater than 10,000 dental offices and organizations, will provide immediate profitable growth to your top and bottom lines. 

Significant growth potential if you concentrate on sales. $500k-$1 million is a possibility.
DentReps will provide the option for one current full time owner employee to focus on sales, existing clients and further business development, to deliver immense top and bottom line growth through new clients and added subscription services – especially recruiting – all while having the ability to utilize the internal resources of any suitor.

An investment in, or acquisition of DentReps, will allow any organization to create at minimum, 5 – 12 new practice acquisitions each year to either add to their current portfolio of offices or create an added revenue model through brokerage or simple referral services.

DentReps will allow any organization to market or even add their service(s) to thousands of subscribed offices and organizations as current DentReps' Clients and transactions.

DentReps will add an independent, valuable resource and tool to any dental organization (or staffing firm) and their clients from staffing, to recruiting, to transition services.

DentReps will provide immediate access & a database of tens of thousands of registered job seekers to any Group DSO, Staffing or Recruiting Firm, but also continue to grow such assets.

Founder Peter Cargill intends or will entertain remaining with any suitor and brings a MBA with 20 years of sales & business development – 14 in dentistry, thousands of valued partnerships and relationships and is 100% confident DentReps will grow exponentially under the umbrella of the right organization.
Key Stats
Sales are in the low six figures.

Registered candidates are nearing 50,000 seekers

More than 25,000 resumes on file

60,000 job postings a year and climbing

Nearly a 800k user sessions will be recorded in 2016
Strategic Acquisition: A strategic acquisition (preferrable) would allow DentReps to come under the umbrella of another company so that DentReps could utilize that organizations infrastructure, freeing up some operation costs and allow me to focus on sales and business development.  All while the buyer could utilize my relationships and "book of business" and hundreds of transactions to expand their services and/or products.
Investment Will Also Be Considered:  The capital infused through an investment would allow me to build a formal team of people (sales, marketing, recruitment and operations) to focus on top line growth but also allow me to expand the platform to incorporate better, more integrated add-on solutions that carry little to no overhead or expense.
Contact
Serious buyers should contact Pete Cargill at 781.987.1365 or email pete@dentreps.com
"DentReps makes a great acquisition for several reasons because it's in a niche that never gets old. Dental jobs, like those in healthcare can't be outsourced, therefore the new owner will have a solid revenue stream for years to come. In addition, the chance to also use the site and its data to provide staffing services offers a secondary income stream that can add tremendous revenue over time."
-Chris Russell