Now that they are the biggest job site in the world, Indeed.com no longer needs help from other sites to promote their jobs. At least that's the message I got after reading their missive that was sent to all affiliate publishers last week.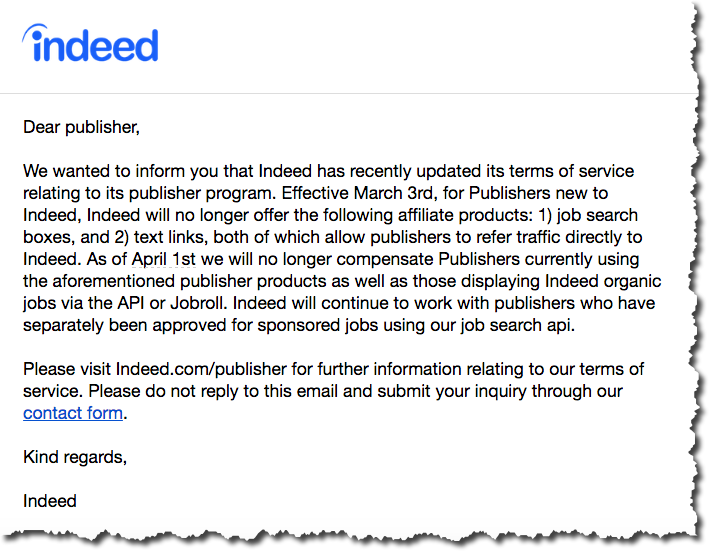 My inbox blew up soon after as clients and other industry pros pinged me to ask what it meant. I told them that Indeed's relationship with other publishers, particularly other job boards, is slowly eroding. People were confused by the email so when asked for clarification I got this response;
If you are a Publisher who has previously been approved for Sponsored Job content you will not need to be approved again, however you will need to use the job search api to generate revenue. All revenue generation opportunities from the Search Affiliate model will be discontinued.

If you are a Publisher that has not been approved for Sponsored job content, information regarding how to apply will be shared soon on https://www.indeed.com/publisher. Please note that you may continue to use any tools that you are currently using, however as of 4/1/17 revenue will no longer be generated unless you become an approved Publisher.
I'm note sure why affiliates need to sign up again for something they already use. For those job boards that use hosted platforms like SmartJobBoard and Jobboard.io it means any regular listings you display will earn nothing while only sponsored jobs will generate revenue. Since most affiliates were only earning a paltry 6-7 cents a click anyway its not a huge loss. But it's time to move on to other sites with better alternatives.
This news also comes on the heels of their recent announcement that they will no longer be accepting new job boards into their paid listings as of March 31st, 2017. From what I've been told, any current advertisers will be allowed to stay and pay Indeed to buy job seeker traffic but no new ones will be accepted. And by the way, there are still a handful of boards receiving organic traffic from Indeed.
For the past few years I have been pushing clients to use Indeed's competitors to buy traffic from because there is no sense in helping the rich get richer. In order to counter balance their size and power, job boards need to support the other players in the space to compete. That means giving their money to the likes of Jobs2Career, ZipRecruiter, TopUSAjobs,  Juju, Beyond. It also means redoubling your efforts to generate your own traffic through content and SEO.
THE ALTERNATIVES
Jobs2Careers – right now I am seeing an average of 17 cents per click with their backfill on a variety of my clients sites. Signup here.
Appcast – these guys will also pay you up to .25 cents per click (they have an inventory of 300k-500k jobs to backfill with)
ZipRecruiter – last time I used them I was getting 8-10 cents a click. Details.
Beyond – the large career site network has their own affiliate program.
TopUSAJobs.com
Juju – Details here.