Well, the rumors were confirmed last week when Google's CEO announced they will be officially entering the recruitment space with their own job search engine at the Google I/O conference. The news in recent months about their jobs API and more recently the Google Hire ATS were clues to their job search ambitions.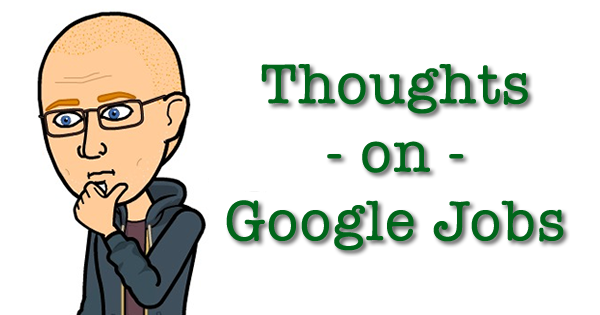 And just like that, Indeed can no longer call itself the 'Google for jobs'.
I have long surmised that the only threat to Indeed, which has become a large and powerful force in the industry (some might say too powerful), could only come from Google. Now a new battle for jobs is about to take place. In a few weeks we should start seeing Google's new initiative in action as it begins to rollout here in the U.S.
For Indeed this news is surely something they saw coming. In the past few years they launched a slew of new products like Indeed Prime and others to begin the long road towards diversifying their revenue streams. They knew their dominance could and would be challenged one day. That day has finally arrived.
Questions Remain
CareerBuilder, Monster and the other partners like Facebook that are part of this new Google initiative, must be giddy at the anticipation of a new source of traffic.
According to the USA today story, here's how it will work from the job seeker perspective;
EXAMPLE…"when conducting a search for sales jobs in Raleigh, North Carolina, openings will soon begin to appear at the top of results. A job seeker can narrow the search by applying filters, such as jobs posted in the last three days, entry level versus management roles, full-time roles versus part-time, and roles in a particular industry such as retail. Once a job seeker spots something promising, they can click through to the website where the listing is hosted and apply there."
It's unclear to me at this point how job boards and employers will be able participate in Google jobs. To be included in things like Google News you have to submit your site and be reviewed by Google in order to be verified as an actual news site. Will it work the same for job providers? A check of the Google I/O event site shows nothing. And their jobs api is still in Private Alpha with a small number of partners.
Have they already analyzed all the jobs online using "machine learning"? We will have to wait and see. Some articles I read claim it has "millions" of jobs indexed from across the web.
I've heard some in the industry think Google Jobs will be another trojan horse just like Indeed did with boards over time by stopping their free traffic. I don't think this will be the case with Google (though I am not totally discounting that theory). Indeed is strictly a job vertical, Google is a general search engine. Nor do they have a salesforce like Indeed's to go out and solicit employers to post. To them, jobs are just another piece of content to be indexed. To Indeed, they are a source of revenue. Google will most likely push job postings through its ATS product and the fact they are partnering with the likes of CareerBuilder and Monster is a good signal to their intentions. Job boards spend money on ads, they won't want to upset that. But this probably means you can expect to pay more to be seen on Google since they will be pushing organic results below the page.
Thinking Ahead
If you care about your SEO traffic you should probably keep an eye on your Webmaster Search Console and keyword traffic in the coming weeks. For Indeed, those numbers will certainly drop as Google takes over the top spot for many searches they currently hold. With 200 million users worldwide, even a 10-20% drop in traffic wont really affect Indeed's sales. They already have the mindshare of candidates. I am curious how else it will affect rankings for employers and well established job sites. Some employers complain (rightly) that Indeed's results rank higher than their own. Perhaps this will right that wrong.
Whatever the case, things are about to get interesting again for online recruitment. Welcome to the jungle, Google.
PS…For a recap of other blog posts on this Google Jobs rollout check out RecruitingHeadlines.