CareerChain has launched 'Bizzy' as the first open industry standard for sharing career histories that will put applicants a couple of clicks away from their perfect job. It could be an example of how blockchain fits into job search…that is if job boards and ATS vendors adopt it.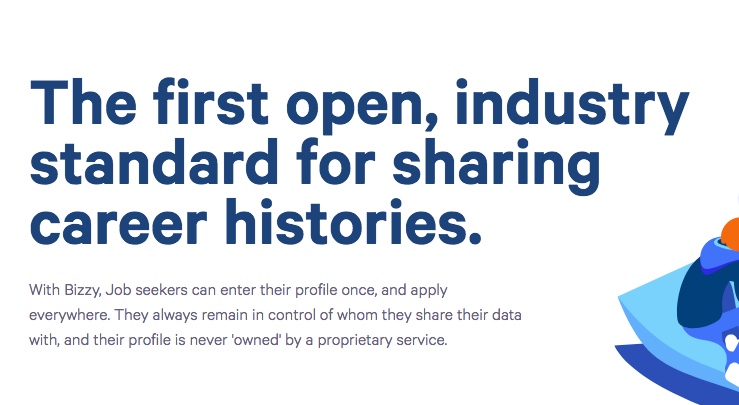 Here's how they describe it.
Job seekers today are expected to enter so much repetitive information in job application forms that they give up on good opportunities quickly when it takes too much effort to apply – especially when they search on mobile. Job applicants generally must complete 10 to 20 online application forms before getting hired – having to re-enter work history, education, contact details and skills summaries over and over again. Job seekers soon get demotivated and start skipping over some great jobs that require too much effort to apply.
There was no global standard for applying for jobs to make all of the above easier, so CareerChain built one. It's called "Bizzy."
Bizzy profiles are the easiest way to apply for jobs – enter once, apply everywhere! Built on the blockchain, Bizzy profiles can be trusted and shared with anyone from any device while also protecting privacy and data. Job applicants won't need to think about blockchain, digital wallets, Ether or Bitcoin – they'll just carry on using their favorite job sites, create a profile automatically and apply for jobs easily with the Bizzy button.
Bizzy is the brainchild of co-founders Ray Gibson (20 years in recruiting and HR) and Andrew Evans (a co-founder at Careerbuilder.com). After 4 years leading their recruitment software company, StartMonday, to becoming a public listed company in the US, Canada and Germany, they spotted an opportunity to apply blockchain technology to solve a real problem and make a massive impact on the job market.
Andrew Evans commented on the new innovation saying: "Today, blockchain can not only make job applications much easier but also facilitate a limitless ecosystem of third-party applications that participate in our token economy and use Bizzy profiles in innovative ways – for instance, services to provide verification of employment claims and certifications."
The CareerChain team is currently traveling the world educating businesses and HR professionals about the impending shift in the job market. CareerChain is also raising money in the form of a private token sale that will be used to further develop and roll out the Bizzy platform.
"The feedback we have received from job sites, agencies and HR professionals has been tremendous," notes Ray Gibson. "While it is known that job seekers search across many different sites to find a new job, major industry players have never found a way to collaborate and share data easily. Establishing the CareerChain Foundation like a consortium for the job market makes Bizzy a non-competitive solution that does not threaten established brands and enhances their business models and revenue streams."
Learn more at Getbizzy.com