Picking your job board niche is a key indicator for success. One of the ways to validate it is to review the job growth predictions for that market. The Knowledge Academy just released their list of jobs that will have the biggest growth;
Unsurprisingly The Knowledge Academy discovered that America will see a large growth for tech-related roles in non-tech industries such as finance, consulting and retail. However, many traditional jobs will undoubtedly rise through the ranks as technology continues to develop.
Interestingly, a surprising job sector that is set to soar with demand for new jobs created by 2026 is the health care sector which is predicted to generate more than 1.1 million new jobs.

The Knowledge Academy can reveal that the following sectors were also among the top five for expected growth in jobs and opportunities by 2026:

Waiters, food service and cooks (907,700 new jobs), Registered nurses (437,000 new jobs), Software developers (253,400 new jobs) and finally Janitors and cleaners with 233,000 predicted new jobs.

The following sectors are predicted to still showcase a sizeable growth in terms of new employment opportunities between 2018-2026:

Operations managers (205,900 new jobs), Medical assistants (184,600 new jobs), Nursing assistants (164,000 new jobs), Construction laborers (153,300 new jobs) and Accountants and Auditors with 140,300 new roles.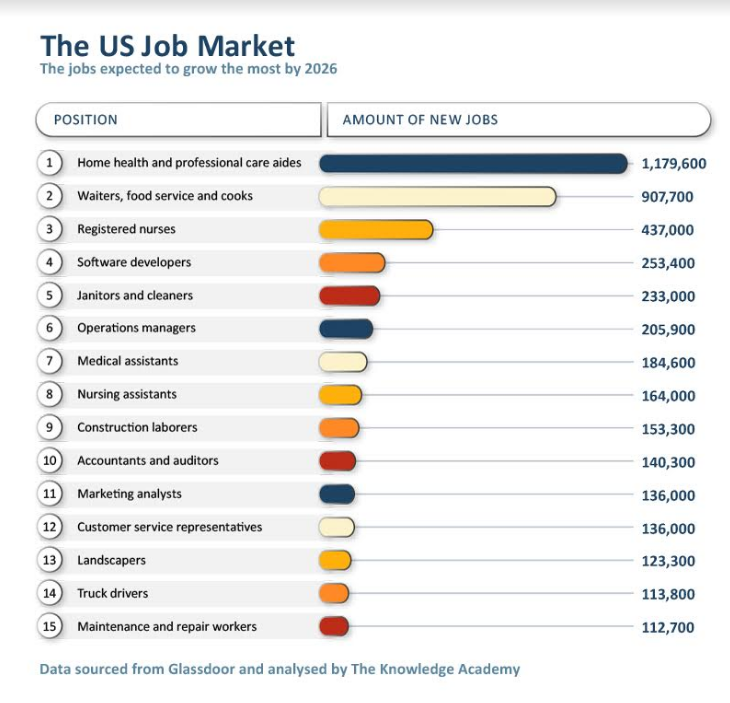 A number of new online job markets have launched in the past few years to address the needs in this list. Home health care tops the list. The service industry job sector seems to have the most new job boards/gig worker apps tackling those roles (Wonolo, ShiftGig, etc.). A couple of new nursing boards have also launched (Incredible Health).
Looking at the list I wonder if the janitorial/cleaning sector might be a good niche to tap…?