Dante Lee, the owner of BlackJobs.com has launched a Toronto city job board. "Lee has launched TorontoJobs.com dedicated to helping local employers connect with qualified diverse job candidates in the Greater Toronto area. Lee believes his latest project will be a game-changer and help the city to resolve its problem with diversity, equity, and inclusion in the workplace and hiring."
---
Fiverr, Upwork and CareerBuilder are flooding social media and TV with new advertising
---
A new app is helping businesses find the skilled workers they need in this often challenging and competitive labor market. It's called "BoomNation" and its available on Google and Apple stores today.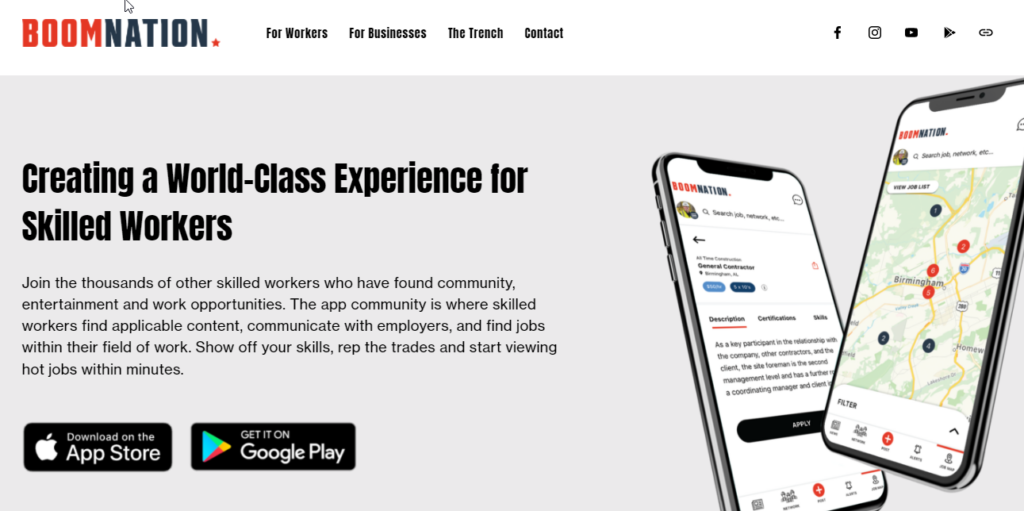 It's targeting trade industries such as construction, manufacturing, oil and gas, transportation and warehousing, utilities and more. It features a community with real-time content, networking, and communications features, while letting people promote their skills and craftmanship and finding and applying for jobs.
---
SmartJobBoard just added integrations with 6 of the most popular ATS platforms. "By integrating with major ATS platforms on the market, we automated the process of job data sync for your job board!"
-Greenhouse
-Lever
-Workable
-Workday
-SmartRecruiters
-JazzHR
So if an employer is using any of the ATS listed above, it will be pretty straightforward to sync with it and automatically import all employer jobs.
Jabord, Inc., an interactive recruiting and branding platform, today announced the launch of its new company page product which utilizes rich digital content to engage and inform prospective candidates during the discovery phase when conducting research on a future employer. Jabord's product consolidates a firm's digital library of content across all mediums, including Facebook, YouTube, LinkedIn, the corporate website and more to deliver one access point for all corporate content, job opportunities and social feeds. It's basically a video job board.