Dice, a DHI Group (NYSE: DHX) brand, is excited to announce it is taking the dread out of writing cover letters with the launch of Dice AutoPen™, a tool developed on OpenAI and powered by ChatGPT, which tech professionals can use to generate cover letters when applying to jobs on the Dice mobile app.
How It Works;
As part of the application and cover letter process, navigate to add a new cover letter.
Tech professionals choose the "Compose with AI" option using AutoPen™ to look at their resume, review their profile and align with the job they are interested in applying to.
A new AI composed cover letter will be automatically generated that is personalized to the tech professional, the relevant job and the company to which candidates are applying.
After reviewing, tech candidates can edit the AI generated cover letter if they choose, save the cover letter and then submit it with that application and/or future applications.
AI and machine learning each play critical roles in Dice's products and platform. The Dice knowledge graph, which powers the platform's IntelliSearch feature and associates jobs with job skills listed on a candidate's profile and then ranks the relationship between the terms and actual skills by relevance, was officially approved for patent by the United States Patent & Trademark Office in 2022.
---
Truckers Network, the trucking industry's premier job posting and hiring platform, has launched a revamped system and user interface with additional functionalities for drivers and employers.
Our industry-leading, technology-driven, hiring solution for the trucking industry utilizes match technology services that connect Companies looking to hire, with Drivers actively seeking their next job. For a low monthly cost, Companies have access to Truckers Network database of Registered CDL drivers with the ability to hire unlimited drivers; no minimum commitments or contracts required.
For licensed CDL Holders, our job matching functionality is as simple as a swipe. Register on our App and complete your Profile in less than two minutes. Based on the information in your Profile, Truckers Network will then match you with all available jobs in your chosen area. Simply swipe left to discard a job post, or swipe right to apply. Receive real-time alerts the moment a new job posts within your area.
For employers, all job posts come with upgrade options such as "Boost", "Promote", and "Hyperlink" to connect applicants directly into your ATS (Applicant Tracking System) to expedite the hiring process. View a video demonstration here.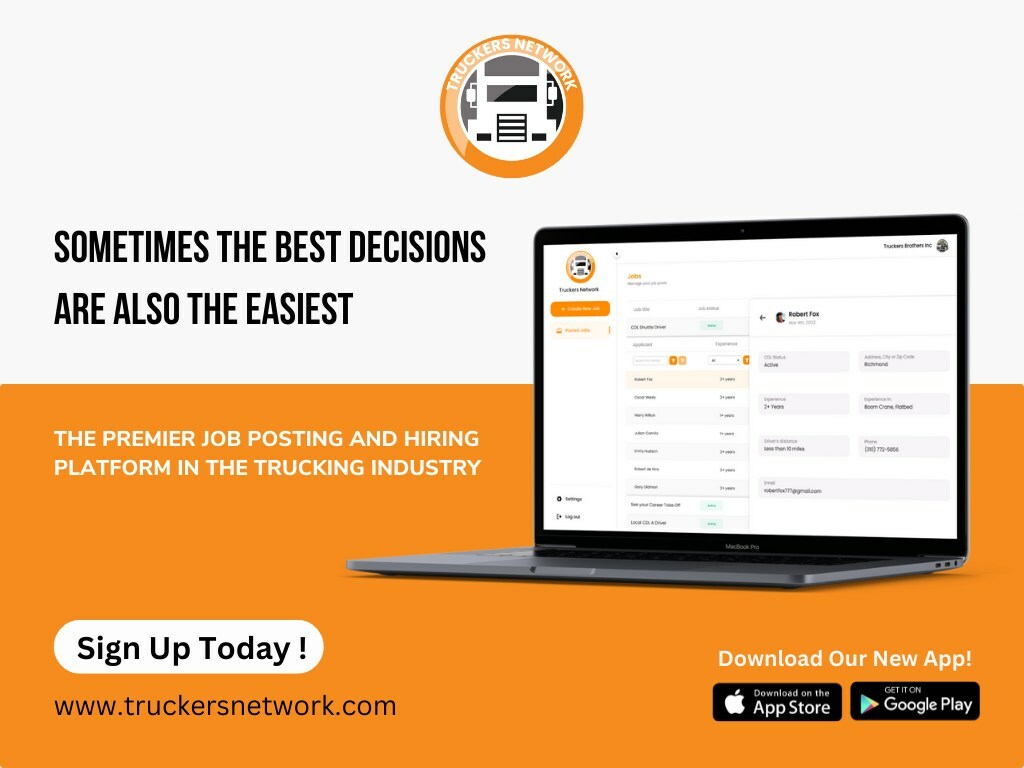 ---
Aimwel and Jobiqo have announced their strategic partnership to help job boards boost their marketing effectiveness and generate job applicants where they need it most.
Jobiqo is a leading software company that provides job boards with platforms in the UK, North America, and the DACH region. Aimwel, on the other hand, is a Programmatic Recruitment Advertising platform that allows job boards to reach both active and passive job seekers and drive applications per job on a hyper-targeted, granular level in a fully automated way.
The new product, called Jobiqo AIR – Automated Intelligent Reach, will combine the cutting-edge AI algorithms and state-of-the-art technology architectures of both companies to offer an innovative and cost-effective one-stop solution for job boards, job sites, and job platforms. By integrating with Aimwel's innovative marketplace advertising technology platform, Jobiqo AIR will offer job boards an efficient way to access all channels from job aggregators, social media, and display advertising. The partnership will enable 200 job boards that use Jobiqo's platform to benefit from Aimwel's high-quality lead generation across paid performance media channels, delivering unmatched reach and efficiency.