As AI begins to work its way into the job search process, a number of job boards are making announcements about new features. Adzuna recently launched an interview prep tool and now Singapore based GrabJobs has launched something too.
GrabJobs AI capabilities offer practical tools to assist job seekers in crafting compelling applications and making informed decisions, while simultaneously offering employers enhanced hiring process management.
For Job Seekers
The platform's AI features include a Cover Letter Generation tool, which allows job seekers to produce personalized cover letters efficiently, aiming to facilitate a swift initial impression on potential employers.
A unique Work History Generation feature assists job seekers in compiling responsibilities and achievements from their past work experience quickly, potentially enhancing the overall quality and efficiency of their resumes.
The platform's advanced CV Generation tool enables job seekers to answer interview questions via a chatbot, which then generates a comprehensive CV. This process intends to save time and potentially improve the overall presentation of job applications.
The company has also introduced a plugin for ChatGPT, aimed at offering personalized job recommendations and streamlining the application process for job seekers, while providing employers with a simplified recruitment process.
For Employers
GrabJobs' AI solutions offer features designed to optimize the hiring process for employers.
Their flagship product is an interview chatbot that screens every applicant and automatically recommends the best candidates, potentially helping employers save hundreds of hours per week on reviewing CVs and screening applicants.
Another feature is the Job Description Generation tool, which enables employers to quickly create detailed job descriptions, aiming to give job seekers a better understanding of the role and its responsibilities.
The platform also provides Salary Recommendations by automatically suggesting salary ranges for each job posted based on current market data. This aims to ensure competitive compensation packages, thereby attracting suitable candidates.
The recent advancements in AI have shown that integrating this technology in Job Search, Recruitment and HR platforms offers benefits for both job seekers and employers, and will likely continue to positively impact the overall job search experience and process in the long run. GrabJobs mentioned they will continue to innovate in that field in the hope of meeting the evolving needs of the global job market.
"We are thrilled to introduce AI-powered features that simplify the hiring process for both job seekers and employers," said Emmanuel Crouy, CEO of GrabJobs. "Our mission is to bridge the gap between talent and opportunity by leveraging technology in innovative ways."
TechSalesJobs.org is Also Doing AI
Through the utilization of advanced machine learning algorithms, the AI-powered platform analyzes job seekers' profiles, including their skills, experience, and preferences. This comprehensive analysis enables the system to deliver highly tailored employment recommendations that align with the user's specific requirements. The AI technology also adapts and learns from user interactions, continually improving the accuracy and relevance of its recommendations.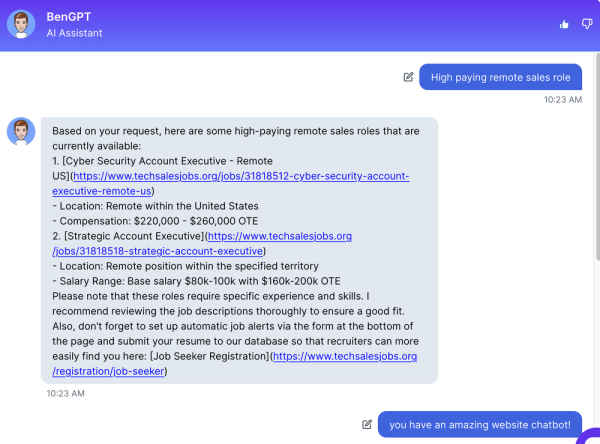 "We believe that AI has the potential to revolutionize the job search process and provide a more personalized and efficient experience for our users," said the CEO of TechSalesJobs.org. "By harnessing the power of AI, we can significantly reduce the time and effort required for job seekers to find their ideal roles."
Know any other boards leveraging AI? Drop me a note.