Ziprecruiter and Indeed both reported earnings last week. Here's a breakdown of each.
ZipRecruiter® announced financial results for the quarter ended September 30, 2023. Complete third quarter 2023 results can be found by accessing ZipRecruiter's shareholder letter on the quarterly results page of the Investor Relations website at investors.ziprecruiter.com.
"Third quarter results demonstrate an additional proof point of ZipRecruiter's resilience and durability in the midst of a difficult macroeconomic backdrop and a slowdown in hiring across most sectors. We delivered $24 million of net income and $54 million of Adjusted EBITDA in the third quarter of 2023, both of which were increases year-over-year and sequentially despite a weakening top line," said Ian Siegel, CEO of ZipRecruiter. "Employers continue to take a much more cautious approach to hiring, impacting the number of job openings and the urgency with which those openings need to be filled. While the cyclical nature of the labor market is inevitable, the opportunity to capture share in a massive market through product innovation and technological advancement endures. Our brand awareness, flexible financial model, and strong balance sheet allow us to remain long-term focused and invest through this challenging cycle."

CEO Ian Siegel
NOTES: The Ziprecruiter stock is trading in the $11 price range right now. I listened to the conference call and the CEO put a lot of the blame on the Fed rising interest rate hikes making capital more expensive for businesses. Zip's overall revenue has grown 38% since 2019.
"We are in the early stages of smart matching technology"….enterprise customers remain a "priority"….'Invite to Apply' feature now being driven by text messages….Q3 46% increase in organic web visits…Zip now features robust company profiles…they have made improvements to resume parser…31% decline in sales YOY….weakness in the SMB market still there…"softness in hiring not yet abated"….they are growing the job seeker database however…that's the upside of this down job market.
Seeing a reduction in quit rates compared to last year….they are "scouring the world" for acquisition targets. Zip has "80% brand awareness" in the job market.
---
Indeed's revenue for Q2 FY2023 decreased again. On a US dollar basis, revenue decreased 18.2%. The supply and demand mismatch between job seekers and employers continued to ease, with global labor markets normalizing, particularly in the US. Total job postings on Indeed, composed of free and sponsored jobs postings, declined year over year in many countries where HR Technology operates, including the US, while job seeker activity as measured by traffic to, and applies on, Indeed and Glassdoor increased year over year.
On a US dollar basis, revenue in the US decreased 23.5% driven by a decrease in demand for sponsored jobs year over year. Revenue outside of the US decreased 2.9%. Adjusted EBITDA margin for Q2 FY2023 increased 5.5 percentage points to 35.8%, primarily due to reductions in advertising expenses and personnel costs while continuing investments in product and technology initiatives for future growth.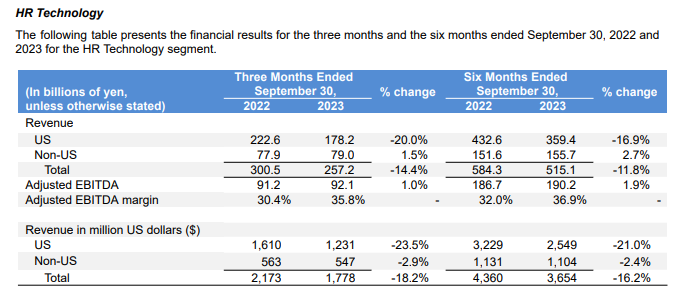 Paid job ads on Indeed are down heavily over this time last year.