I talked about Jobtarget's OneClick service recently where they allow employers to pay once and post on several boards. There are actually a few others like this. So my advice is to get yourself listed on as many as possible to increase your brand awareness and sales.
1. Broadbean: this is a UK company which now has offices based in the states. They actually have a simple directory of sites they post to right here. Fill out their contact form and ask to be listed.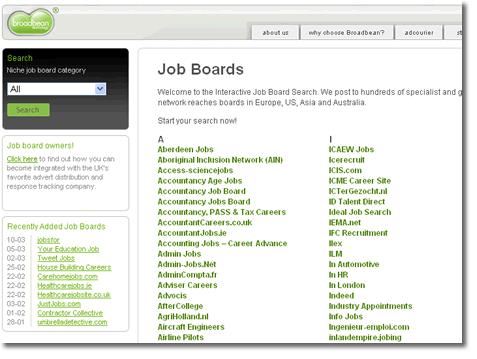 2. Equest: eQuest provides a simple, one-page user experience that allows companies to post jobs to multiple job boards in seconds. This reduces the administrative headache of having to visit each individual job-posting site and manually posting each job.
3. Smashfly: WildFire® enables you to post to any job board.
4. Arbita: Arbita OnePost is our core job posting technology, and was the industry's first consolidated job posting solution. OnePost empowers companies with a single portal for posting to more job boards in more countries than any other solution.
5. iCims: The Power of One Platform means iCIMS clients can leverage a wide array of tools from one interface. TMP Pathways, iCIMS' premier job distribution partner, offers unparalleled access to thousands of the most popular and niche job boards across the globe from one interface.