In addition to running this blog I have a new full time gig as Director of Digital Recruiting for a cruise line company here in Connecticut. My position allows me to try a lot of job boards and influence the direction for all of our recruitment marketing. This week I tried posting on a bunch of niche sites (for hospitality and culinary roles) including CoolWorks.com. CoolWorks is a long established niche board for seasonal type positions for places like National parks, tourism and other outdoorsy roles.
They have job postings which all job boards do but they also have a cool product designed to be more than just a job posting. Its called a "Help Wanted Now" ad and it allows employers to describe themselves and promote all their jobs at once. Essentially its a introduction to an employer and what they do/hire for.
NOTE: The CoolWorks site started generating applies within a few hours of this running. (Their site gets 100k monthly visits)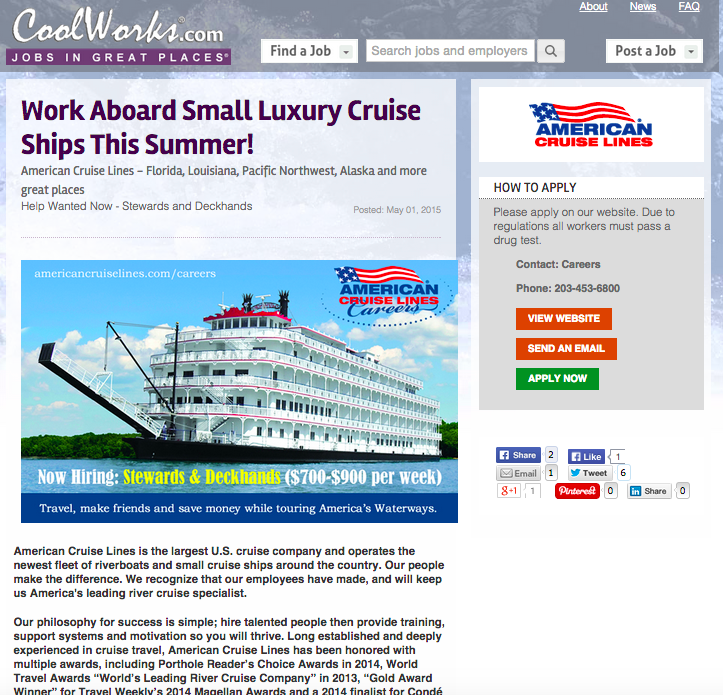 This is a great example of diversifying your product offerings in the job board industry. Think out of the box like CW did. I even do it on my Hidden Jobs site. These ads are essntially mini-hiring announcements
promoted to a local audience.
CoolWorks has some other type of products for employers to choose from which you can view here. They are a great role model in the online recruiting industry.