I discovered some disappointing news recently that the niche aggregator called giantGator which crawled freelance sites such as UpWork and Elance has shut down. The founders were sent a cease and desist letter by Upwork and said they had received a "chilly reception" from many of the other sites.
Their goal was to make the 'kayak of freelance' which I thought would be a highly useful tool for the freelance market. Freelancing is on such a growth curve there needs to be a better way of bringing all these projects together in one search. Sadly that isn't going to happen anytime soon. The founders of GG said they were committed to sending the freelance sites free traffic and never charge them for it.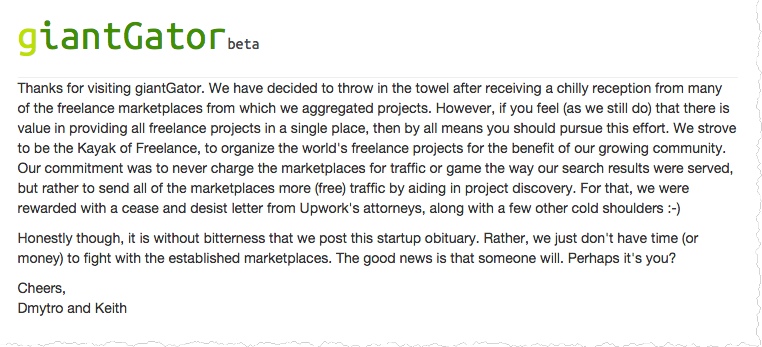 I have long predicted that we would start to see more niche aggregators popup. It's a natural evolution of the job search industry to make search more efficient (aka Indeed). But this latest development is troubling. Imagine if employers started declining their feeds be scraped? Where would companies like Indeed and SimplyHired be now?
Craigslist took this approach in the late 2000's when they removed themselves from aggregator listings (and eventually Google too). They wanted to protect their data which is understandable. But are Craig's postings still delivering the same kind of ROI to employers as they once did? Some recruiters I've spoken to would argue not.
For a niche aggregator to work, it would have to promise NEVER to charge the job boards it crawls. Trust is the word. Job board owners are already jaded by how Indeed minimized them over the years as it began to favor employers over everyone else. But the idea of a niche aggregator for certain industries still makes sense as a use case for candidates. Perhaps someone will pick up the torch from Keith and Dimitro and finish the race.
NOTE: another niche play example is tech job aggregator Jobfusion.co