Despite being December, traditionally one of the slowest job hunting months of the year, some job boards are making news. Here's a quick roundup that I put together for your review. Tis the season.
THEME: Job boards go global!
The Seattle Times has chosen a UK provider of job board software to power their new classifieds hub. Visit jobs.seattletimes.com to see the new site in action. Its a clean well thought out design built by Talenetic, the latest start-up from the founders of the UK's leading job board Jobsite.co.uk. it's their first site in the USA and they replaced Adicio.
I think UK job board software providers do a great job in general with their front-end designs. They get it.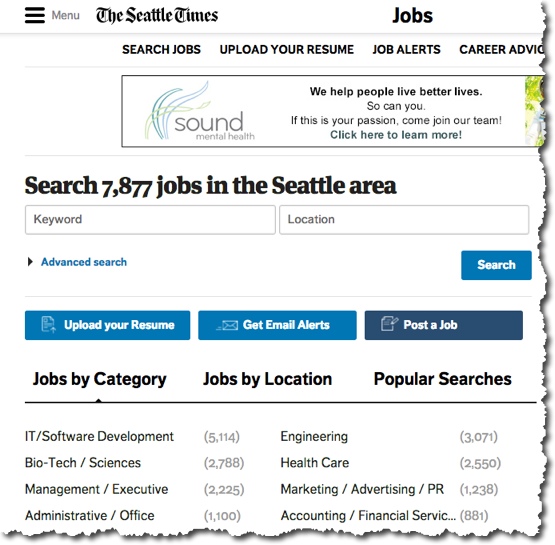 A new Indianapolis-based startup founded by two job-board veterans is raising $2 million for a location-based mobile app/website platform that helps people searching for low- and mid-skill jobs. Called Work Here, they say they draw millions of job postings from the DirectEmployers database. Many employers will see their openings on the app. But if they want to post an unlimited number of jobs directly on the app, and launch an ad campaign that targets a specific profession in a certain geographic area, the price tag is $499 a year. Read more.
Job boards are still launching. Here's a new one in the UK.
WorkanGo is a newly-launched job board solution that is dedicated to filling the demand between companies and low-skilled, immediate candidates. Visit link.
And here's one in New Zealand
Free job Postings is a new job board that is New Zealand's free jobs postings that is engineered to recruit the right person for the job fast. The site was designed by a team of former professional recruitment consultant in both internal and agency recruitment. Free Job Posting can be assessed on the internet at FreeJobPosting.co.nz.