Part of what I do as a consultant in the online recruiting industry is to raise awareness of my clients among recruiters and employers. Over the years I have amassed a strong network of followers who like what I share and write. I've also built several email lists and groups of recruiters that I can quickly get your name in front of. Think of me as your brand evangelist. I help both job boards and other types of recruiting tech companies who want to target recruiters and employers.
So I'm now offering a simple, affordable public relations product to do just that.
It's called "PR Boost".
Using my various channels and lists I will personally introduce your site/service to a minimum of 10,000 recruiters and HR professionals.
Your PR Boost starts with a custom written article which I'll be publishing on my LinkedIn Pulse account. Like this this one I wrote for TaxJobs.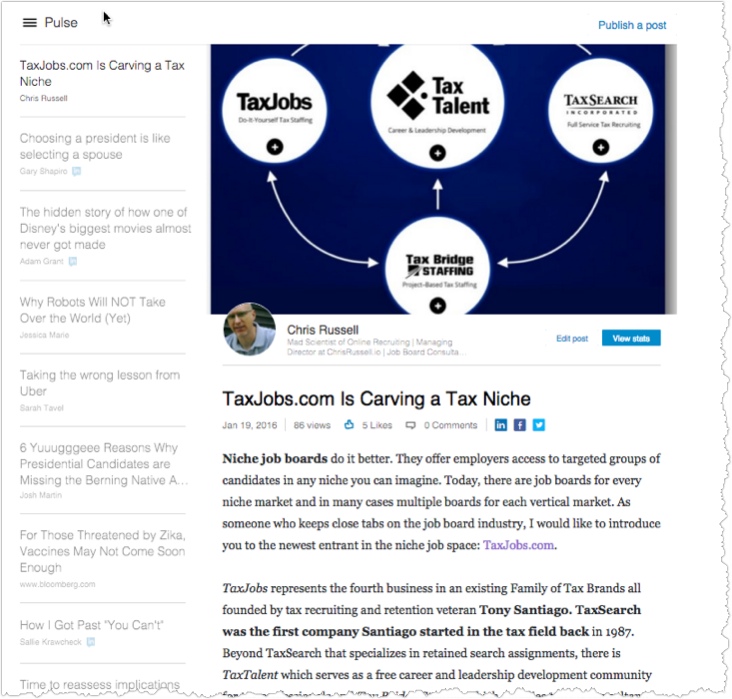 From there I will share it across various groups on Facebook and LI that target recruiters. Then I'll email it to a variety of opt-in email lists which I've been curating for many years online.
All of this happens over the course of two weeks to maximize exposure and raise awareness of your brand.
Benefits of a service like this include;
SEO boost: I will end up getting you several back links from related websites that will help increase your Google ranking.
Traffic: My PR efforts will result in more quality, employer traffic coming to your landing page or site.
Branding: Introducing your name to a large group of recruiters/employers will help establish you in the marketplace. This is particularly useful for new vendors who are not well known yet.
So if your site or service could use a PR Boost then let me know.