A new chat startup called RoboRecruiter is looking for job board partners. Their Director of Sales, a former Indeedian named Angelo Zucaro contacted me recently.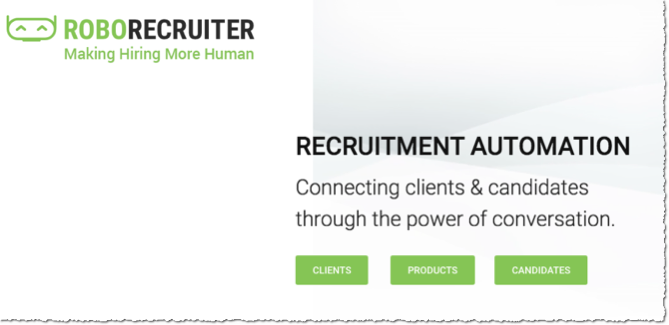 He says job boards can benefit from the power of chatbots by using RoboRecuiter in a few ways. Here are some examples and metrics around that…
People want info and they want it right away…

55% of consumers are interested in interacting with a business using messaging apps to solve a problem. (HubSpot, 2017)"

People would rather apply using a chatbot… use RoboRecruiter to increase conversions. "

45.8% of consumers would rather communicate with a business through a messaging app than email. (

ubisend, 2016

)". Adding Robo to your career pages can increase the application by 2x for the simple reason that the conversations (application) are mobile friendly and it allows job seekers to apply in a way that doesn't seem like an application.

Make more per customer… job boards can make more per customer by adding RoboRecruiter to resume database access. As an example job boards could use charge their customers $99.00 to message 200 candidates, so as to screen candidates and find the best talent instantly doing so would provide 8x return on their investment. Robo can also be used to messages candidates after they apply to a job postings as a tool to prioritize candidates saving employers time and money.

Robo adds more value than a general email or SMS campaign as it allows the candidate to engage in a meaningful conversation, which extracts valuable hiring data. Also conversion rate are 15-20%, which is more than 2X higher than other solutions.
The basic pitch, Angelo says, "is they can copy and paste code into their website to add the bot widget which will help them get more applications (better conversions) and customer satisfaction as they will have more access to data and it will be easier to apply."
Angelo is giving readers of this blog special pricing for job boards that lasts to the end of the year starting at $299.00 a month. The pricing scales so it is more cost effective as they spend more but this pricing is only available for 2017. It could be an upsell too like if the employer is posting a job they could add the widget for $50.00 which would give them a higher % of applications.
With a few exceptions, most Job boards have yet to come out with any kind of chat bot to assist their seekers and clients. I especially think the software vendors may want to start looking at building or partnering with technology like this.
Contact Angelo by email at azucaro@roborecruiter.ai