Just spotted:  Technical.ly Match beta, a double opt-in direct placement service that "fits the needs of today's workforce and promises to deliver only quality results to both sides of the process." It is targeted for Mid-Atlantic states like Pennsylvania, Delaware and Maryland.
In a stealth pilot, the site claims more than 2,000 Technical.ly readers from seven states opted-in and 10 companies are actively matching with them. Companies such as Philadelphia-headquartered Chariot Solutions and Maryland-based Stanley Black & Decker have found technical hires through them. Tecnical.ly claims a handful more that were placed during their pilot. Visit the site.
They are pitching the platform as a talent to company matchmaker. That could be just be a fancy word for job board because I noticed at least some of the applies went tot he company email address. Pretty simple, but still effective.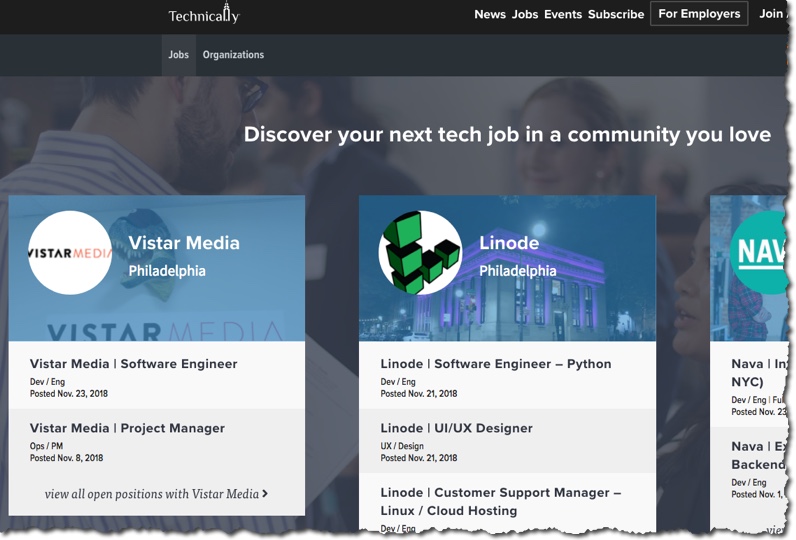 Technical.ly is also an online community for the tech industry in the area it serves. Other sites like this include VentureFizz for the Boston area. They started with content around news, events, startups and eventually added jobs to the mix.
This formula is what I mean when I tell job board owners to 'create a community of like minded professionals'. Starting a job board today? Good, but first you must build a foundation. Spend your first year building up an audience so that eventually jobs make a natural evolution in your offerings. This means focusing on content—and lots of it. Blogs, podcasts, videos, events will enable you to find and keep the audience you need. You can still launch with jobs on day one but your primary goal should be creating content that resonates in your niche.