Indeed's parent company Recruit Holdings just announced their latest quarterly earnings and sales from Indeed & Glassdor are flat according to the latest numbers.
At the same time they've been rolling out their new pay-per-applicant business model which is proving to be a challenge. The screenshot below is just one of a number of instances I've seen on social media in the past few weeks.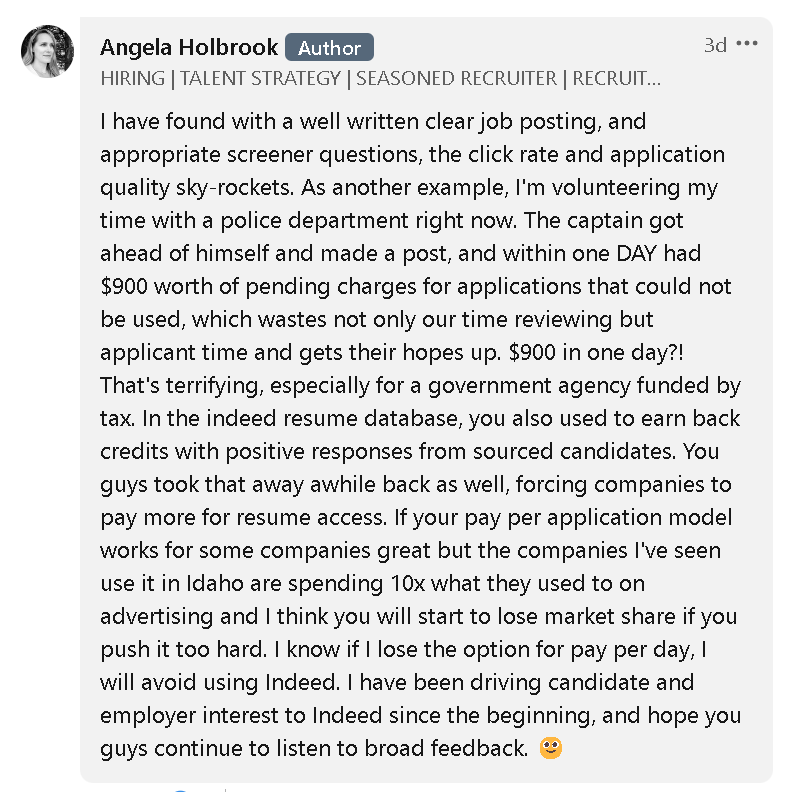 I had a feeling this was going to happen when they basically just sprung the news on everyone back in October. Indeed is trying to change the behavior of employers which is more easily said than done. But because they are the #1 job site they like to dictate how you can recruit.
"This is the way", to quote The Mandelorian.
The problem though is by requiring employers to setup more screening questions for each job and only giving them 72 hours to accept or reject applications they are causing MORE work for their clients.
And costing them untold amounts of extra job ad spending. Recruiting departments are already stretched thin, so these moves fly in the face of practicality. Supposedly they warned everyone ahead of time but unless you beat the message into clients head repeatedly, not everyone will get it right away.
What they probably should have done differently in my opinion is simply add PPA as an option for those employers who wanted it. They could have kept PPC in place for SME's who are NOT used to paying per applicant. PPC is a lot easier to sell and understand (just pick a budget and post) versus introducing a bunch of new rules with PPA not to mention a time element via the 72 hour deadline.
By making it an option they could have slowly educated their client base and eventually tried to make a switch over in a year or two.
Changing behavior in just a few months was a pipe dream. PPC has been in place many, many years, did they not understand the magnitude of what a change like this would cause?
The challenges we've been hearing about on social media are real and backed up by the transcript of the recent earnings call. Indeed's Board Director, Hisayuki Idekoba, ("Deko") took questions from analysts and talked about the challenges they are facing with the economy and clients.
I've dissected the important takeaways for you.
First the Numbers
US dollar based revenue was 1.9 billion dollars, approximately flat year over year, or an increase of 3.9% on a constant currency basis. Quarter over quarter, US dollar based revenue decreased by 8.7% due to less hiring demand from employers.
This revenue is higher than two years ago, in Q3 of FY2020, when revenue was approximately 1.1 billion dollars.
While the labor market remained tight globally and total job postings were above pre pandemic levels on February 1, 2020, the supply and demand mismatch between job seekers and employers continued to ease.
Total job postings on Indeed, composed of free and sponsored job postings, returned approximately to the levels of one year ago, and job seeker activity as measured by traffic and applies on Indeed and Glassdoor increased year over year.
On a US dollar basis, revenue in the US decreased by 2%, and revenue outside of the US increased by 5.3%.
Revenue in Q4 will be down approximately 5% year over year.
HR Technology revenue growth (indeed+glassdoor) for this fiscal year would likely be closer to 10%, we have revised our outlook for revenue growth to approximately 8%. 
"While carefully controlling operating expenses including by reducing marketing expenses and pausing hiring, we expect adjusted EBITDA margin for FY2022 to be slightly lower than our initial outlook of approximately 30% due to lower revenue than expected."
How are clients handling the new PPA rules?
I plucked out some of the most interesting comments, they are very telling.
Through this process, we have to change the conventional process of the business client side and that part still has some resistance.

For the applicants, of course they want a quick reply. And so we changed the way we charge and bill and have the business clients get used to this process and change their behavior. We're trying to do that. But behavioral change is required.

It's not like changing everything overnight. We need to gradually change the business clients' behavior over time, cautiously. Towards next year, it's not that we're trying to do this with great speed to offset the entire volume decline.

We are trying to talk with our customers in a detailed, meticulous fashion, so that they will change their behavior. For large companies, it is even more complex. There are many people in charge of different jobs. Overall, we think we are being well recognized and getting good feedback.

But there are still many challenges to overcome.

Indeed
What does Indeed expect labor market conditions to be like in 2023?
Q. Last quarter you highlighted how tight the labor market has been around the world. What are your thoughts on the global HR Matching Market and have there been notable changes since last quarter?
A: Not much has changed from what we discussed in November. The labor supply shortage resulting from long-term and structural changes in the labor market – the aging workforce, shifts in immigration and changing attitudes towards work-life balance – remains challenging in almost all developed countries.
Job postings in the US are at a high level, 11 million in December, however, the significant hiring demand brought about by the pandemic is gradually normalizing from its peak in 2022 towards the pre pandemic levels seen in 2019. Outside the US, the situation is different. The labor market in Europe, including the UK, remains tight and Japan continues to recover from the pandemic.
The magnitude of normalization we've seen in the US has not yet happened. Job seeker activity is recovering globally, as the number of visits to Indeed and Glassdoor and the number of applications is on the rise.
Q: How were those trends reflected in HR Tech's financial performance during the quarter? And what do you expect for the rest of this fiscal year and FY2023?
A: In the US, we're now seeing a discrepancy between the trends in total open jobs and sponsored jobs. In Q3 on Indeed, total job openings were down 3.5% year over year, while sponsored job volumes in the US were down 33% year over year. As I mentioned earlier, there are still many job openings due to the labor shortage
However, with announcements of layoffs and reports that the economy is likely to worsen, we're seeing a decline in employers' willingness to spend to hire in many industries despite the labor shortage, as they become increasingly cautious due to a potential recession in the US. However, we've made various improvements that we believe are gradually making it faster and easier for employers to match with qualified job seekers.
As a result, cost per job advertisement has increased, and US revenue has held up relatively well, decreasing 2.0% in the third quarter. On the other hand, revenue outside of the US increased 20.7% year over year on a constant currency basis with strong performance in Germany, France, and Japan.
QUOTABLE
"In the US, for example, we believe the job openings will likely decrease to pre-pandemic levels of about 7.5 million jobs, or even lower over the next two to three years."
Q: In light of these trends, what measures are you taking to prepare for a challenging environment?
A: With so much uncertainty regarding the outlook for the economy and the labor market, we are preparing for a difficult economic environment by taking a cautious approach and controlling costs. In HR Tech, as we mentioned in November, we have already implemented cost control measures such as a hiring freeze and reduced marketing and other expenses.