DHI Group which is a public company (NYSE: DHX) that owns two niche job boards, Dice.com and ClearanceJobs.com has announced its latest earnings. Once again ClearanceJobs outperformed its bigger brother.
Total revenue was $37.4 million, down 3% year over year. The company is revising its fiscal 2023 full year revenue guidance to expected total revenue growth of flat to 1% year over year.
As you can see below Dice.com continues its downward slide while Clearancejobs.com is the lone bright spot and is growing. This trend has been happening for a while. CJ is up 10% for the year so far. Dice is down 10%.
The tech job board sector is the most competitive in our space. Dozens of job boards litter the landscape. In my opinion DHI should look at buying up some of their smaller competitors and just backfill their listings to gain market share and get more traffic.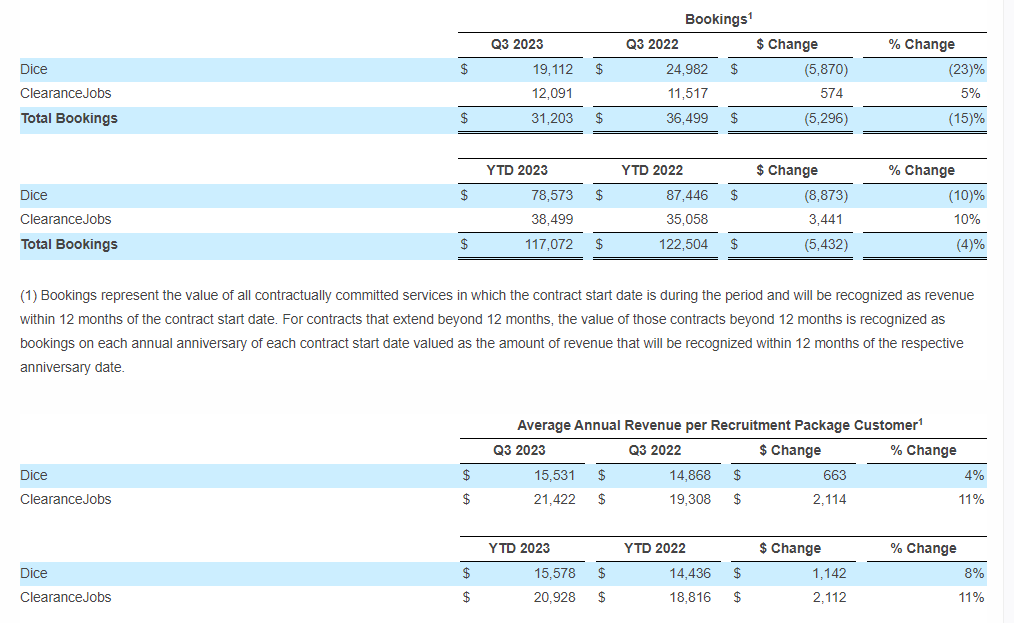 "While the current economic environment continues to impact our revenue and bookings, there remains a long-term secular trend for adding more tech workers in the U.S. In a study released this past July, McKinsey Global Institute predicted that demand for STEM workers will grow 23% from 2022 to 2030. As the economy improves, and as companies across all industries continue their investment in technology initiatives, we expect increased demand for our tools, which enable companies to attract, find and hire the right technology professionals for their open positions. Until then, we continue to improve our industry-leading product offering and our go-to-market execution, while doing so in a more efficient and profitable manner as evidenced by our significant increase in our Adjusted EBITDA margin this quarter."
~Art Zeile (CEO)